In June, we traveled to the wedding of my brother and sister-in-law, Chris and May, in her hometown of Guàngzhōu, China. We were able to just scratch the surface of what China has to offer, but what an introduction it was! A country with the unique blend of east and European cultures, with bustling metropolises and rural farming communities… it was an experience of a lifetime. The wedding deserves its own post, so here is a (mostly) photo gallery of our tour of rural China.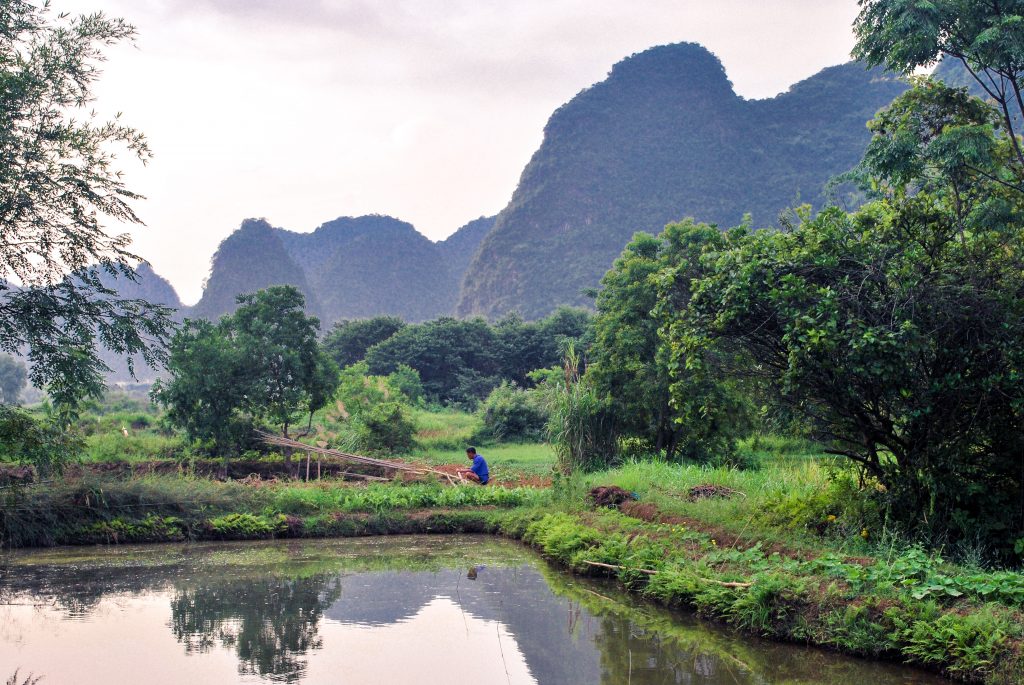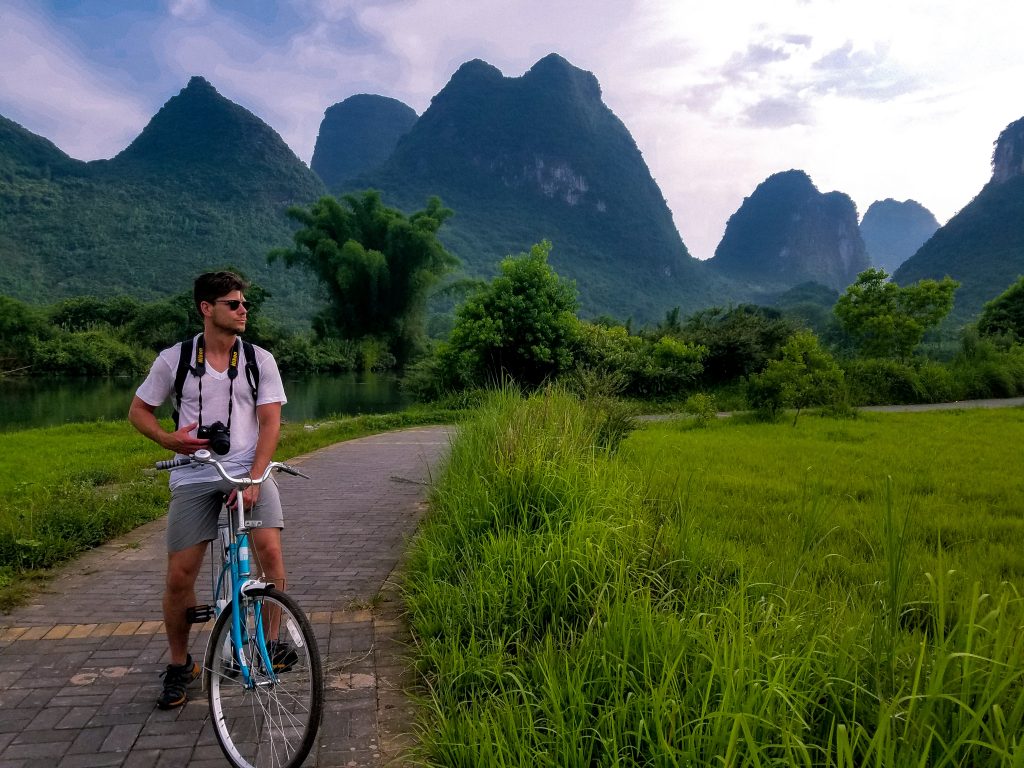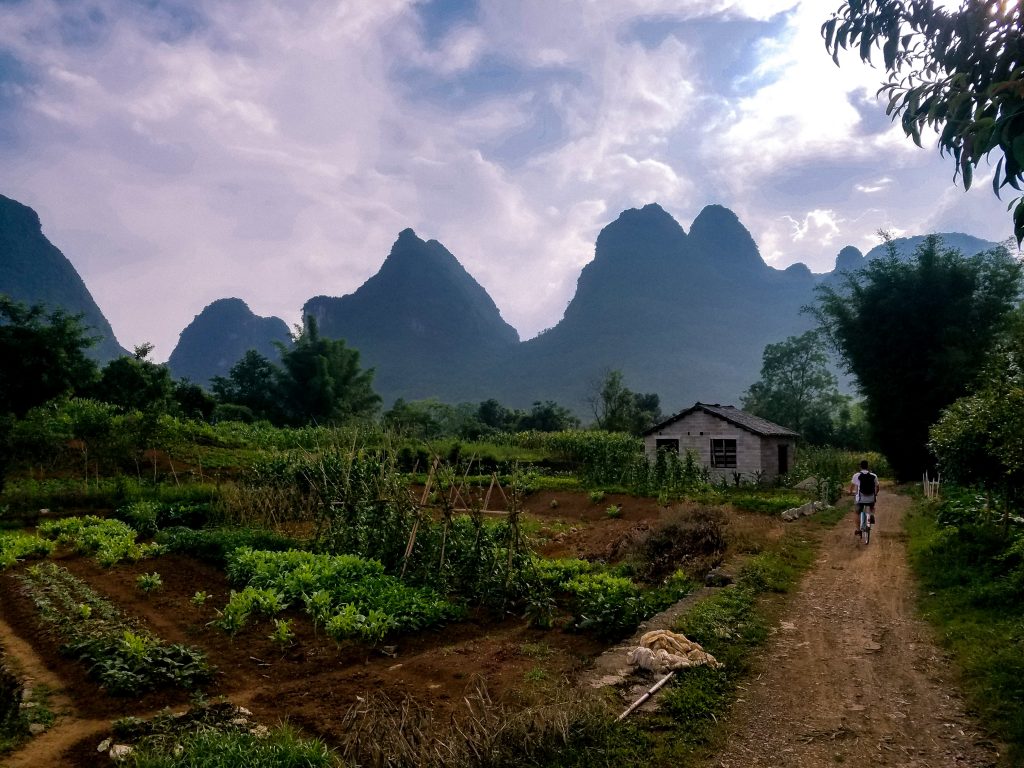 Yángshuò
One of our favorite stops in rural China was in Yángshuò, a small village outside of Guìlín. I was really keen to get out of the hustle and bustle of the larger cities and experience an authentic slower pace of life. We found what we were looking for! We stayed at a delightful hotel, the Yángshuò Tea Cozy Boutique Hotel, and I can't recommend it enough if you happen to be in the area one day.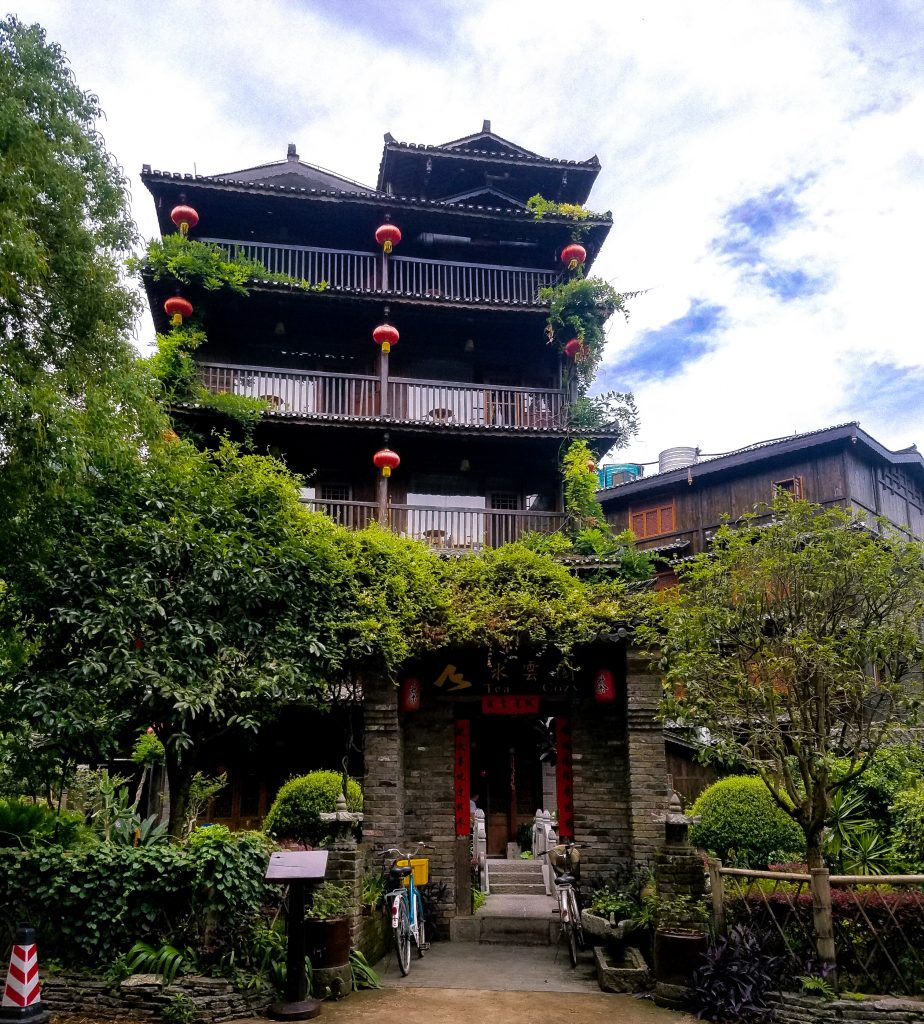 Loved this Koi pond.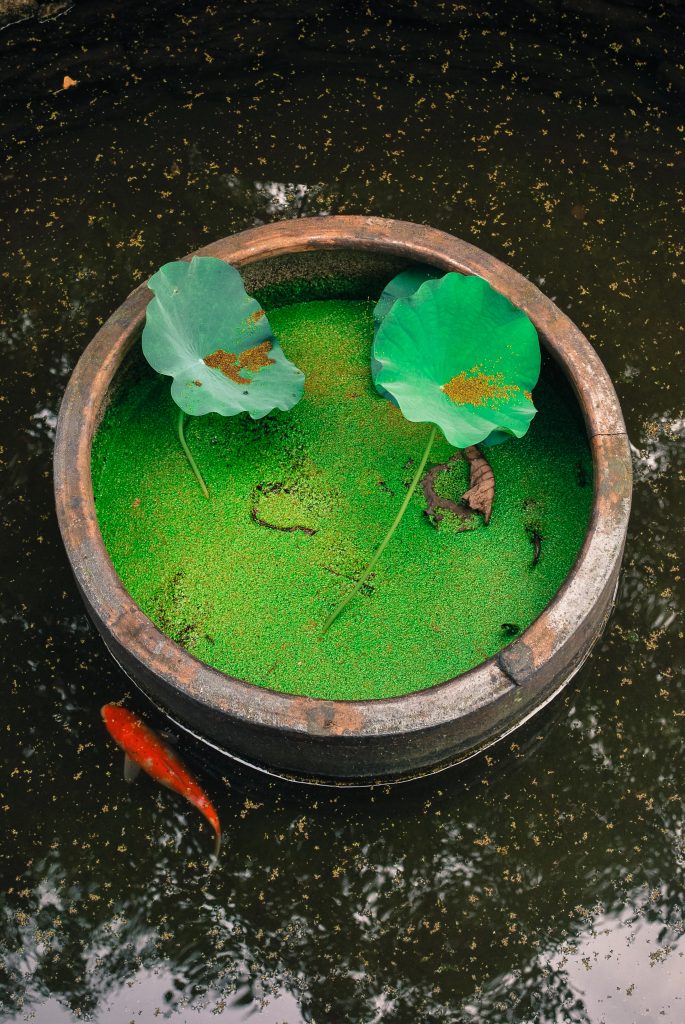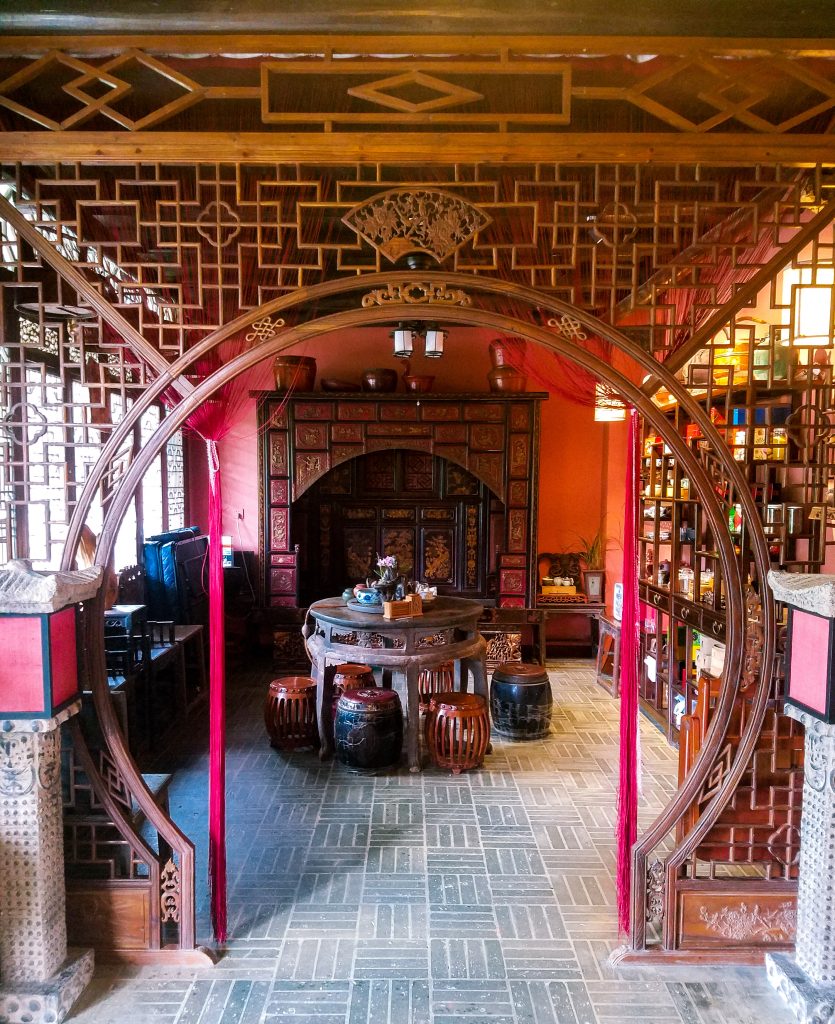 The Tea Cozy Hotel offered various activities each day, such as Tai Chi and calligraphy. We decided to try our hand at dumpling making. It's definitely harder than it looks. Bonus: we consumed the fruits of our labor (probably because no one else would want to).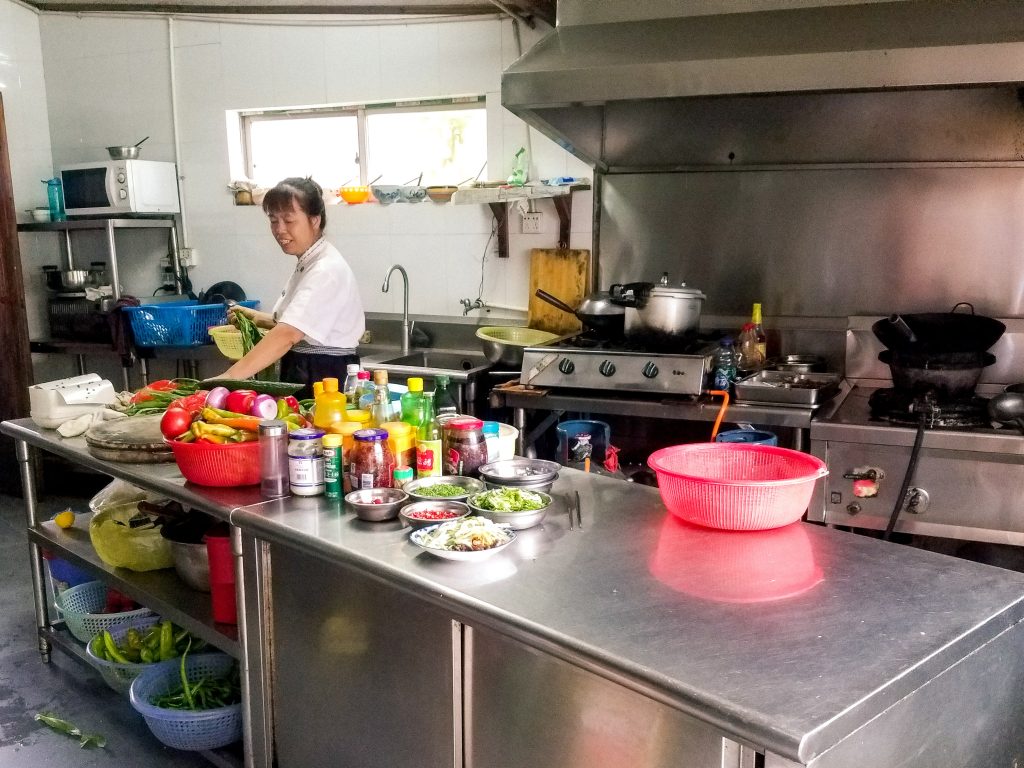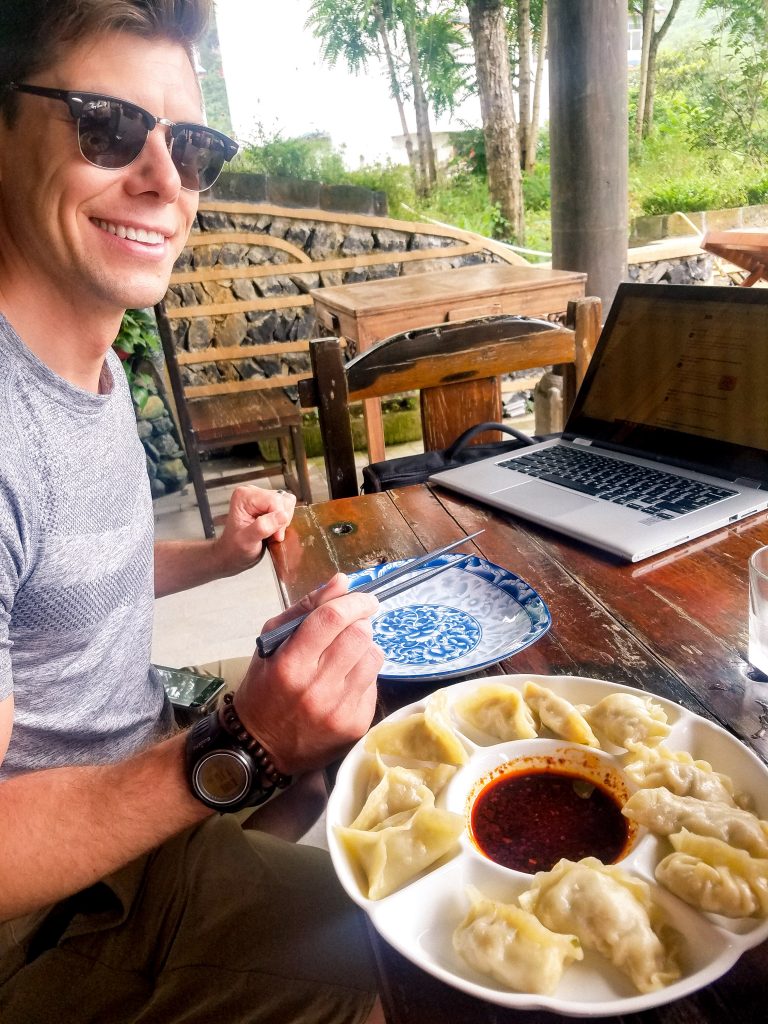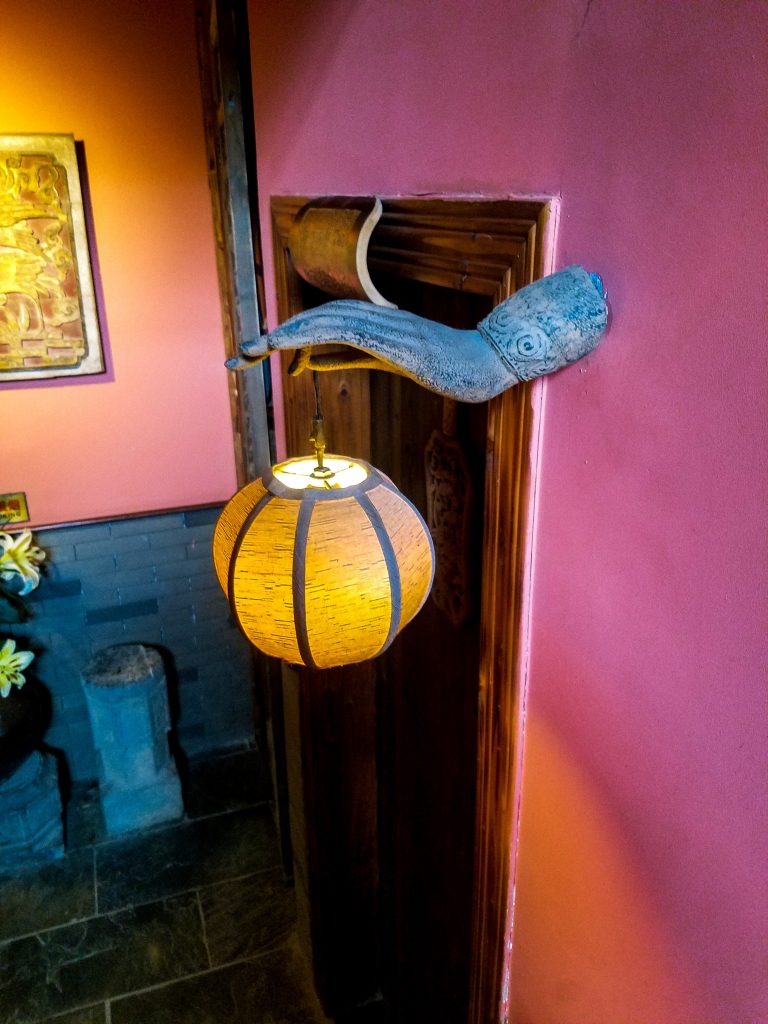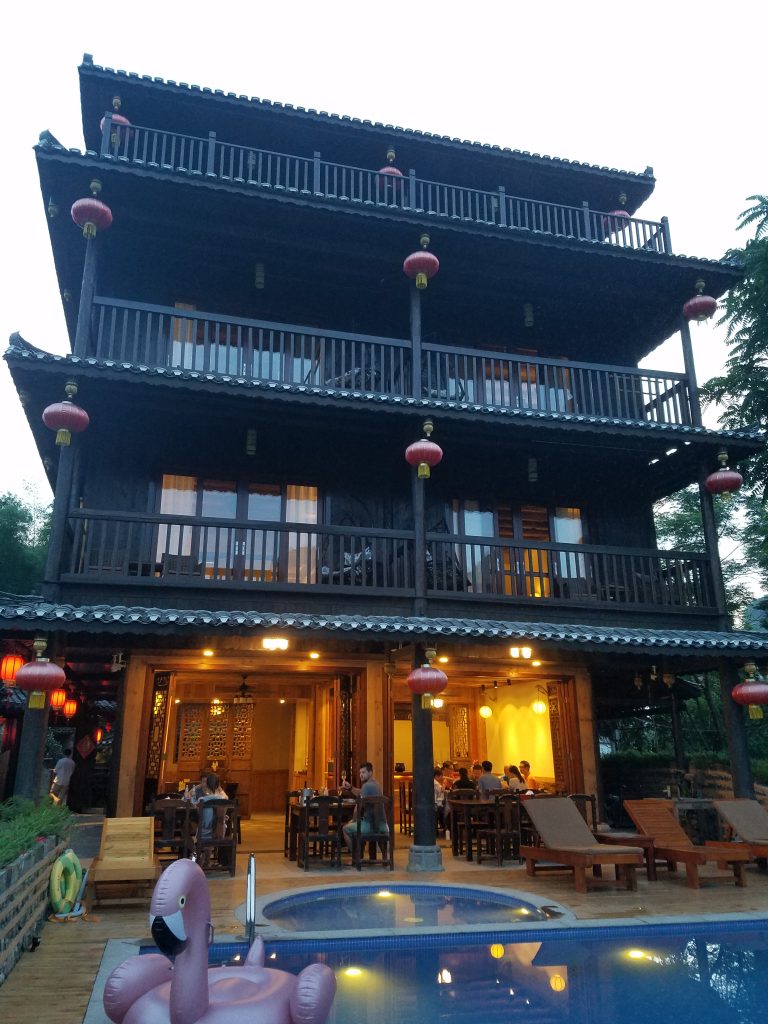 This hot pink lady hung out at the pool with me all day.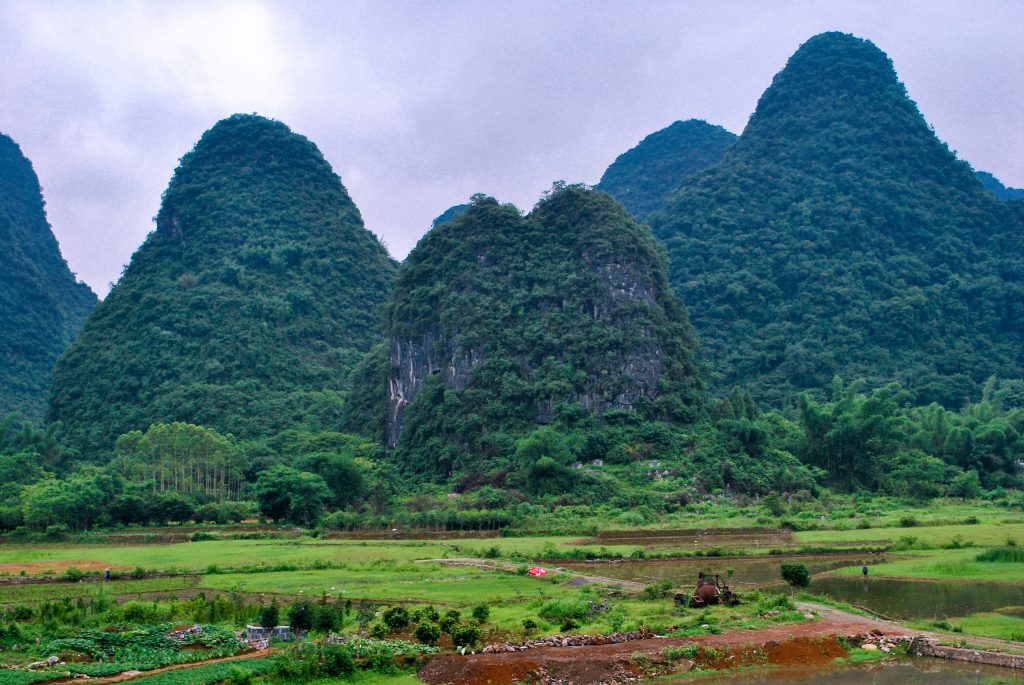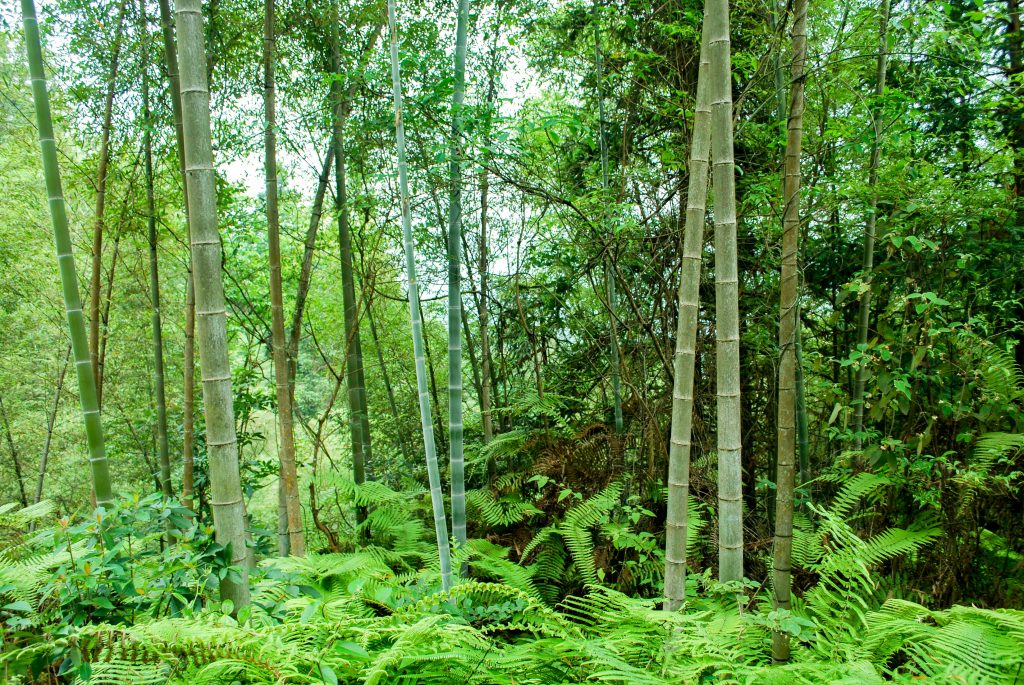 Roaming around the village and surrounding area on the hotel's bikes was our daily sightseeing activity. No car needed, thank you. Life tracks at a different pace here.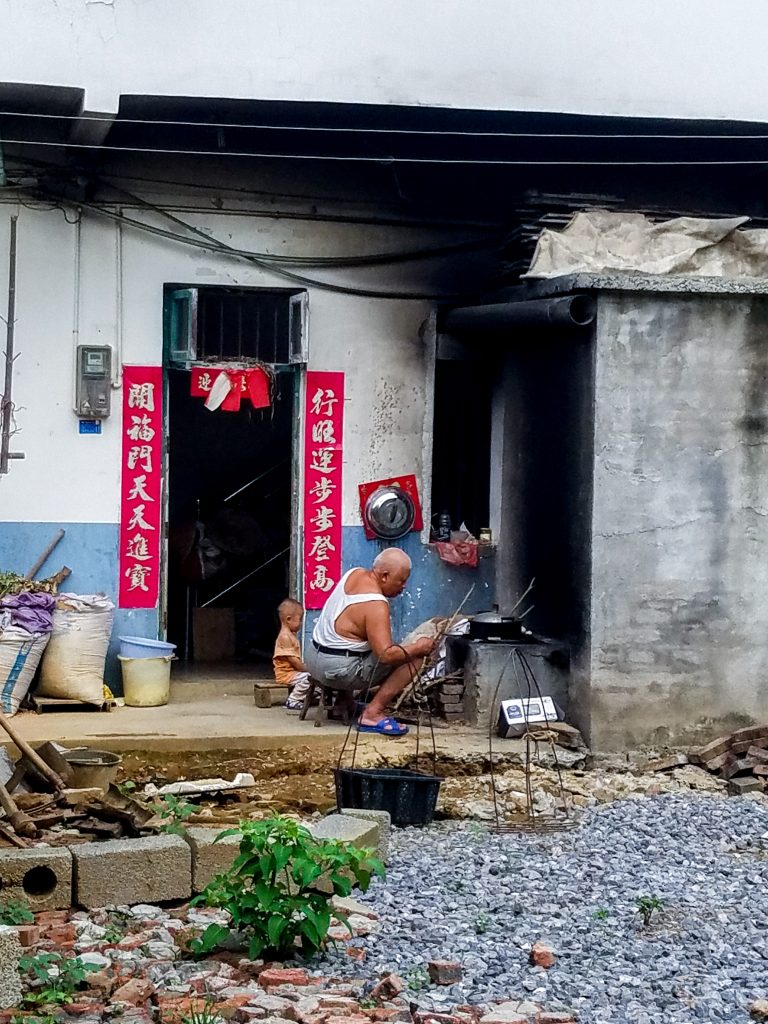 I can't tell you how much I love this old man and his cow.

I'm pretty sure I would think twice about being so wasteful and unnecessary if there were substantially more effort required for the things I take for granted at home in the U.S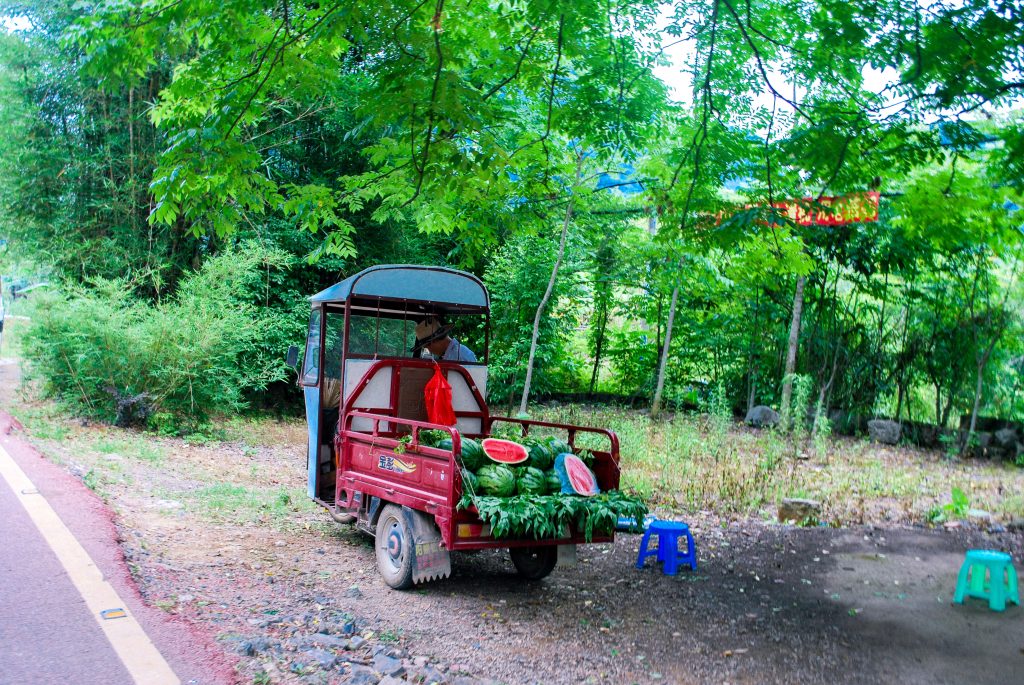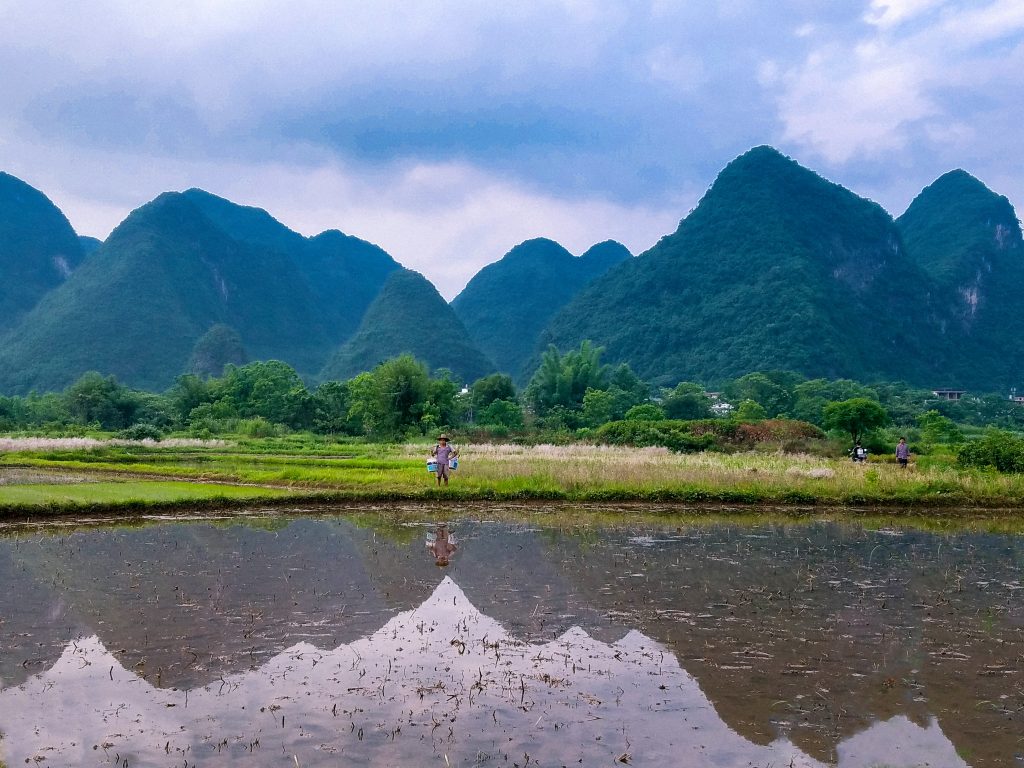 ---
Since our method of local transportation was solely bikes, the only thing limiting us was our own gumption and the heat. Did I mention the humidity was insane while we were there? Funny thing, it was actually supposed to be the mild season during our visit. Figures, the Swede in me was dying even in their temperate weather.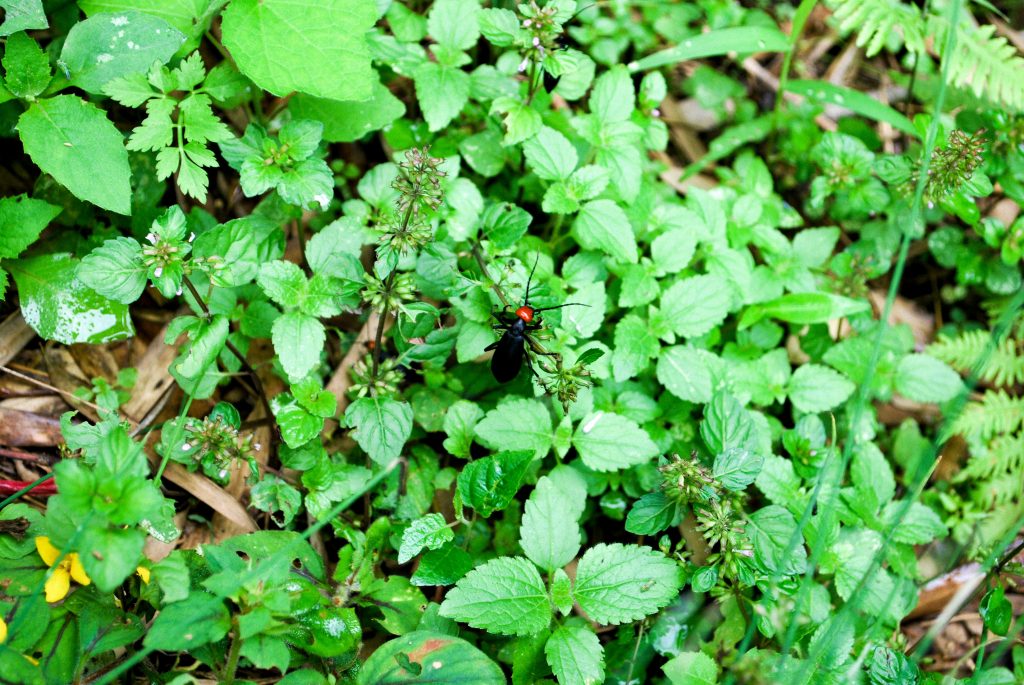 There seemed to be never ending possibilities of things to see in the Guângxī area: ancient temples, tea plantations, ruins older than our country, etc. I had read about the Moon Hill hike in our Lonely Planet guidebook. I think the exact words used to describe it were, "extremely sweaty". A more accurate description could not be used. I might add: "stifling, uphill, eternal". You know, stuff like that.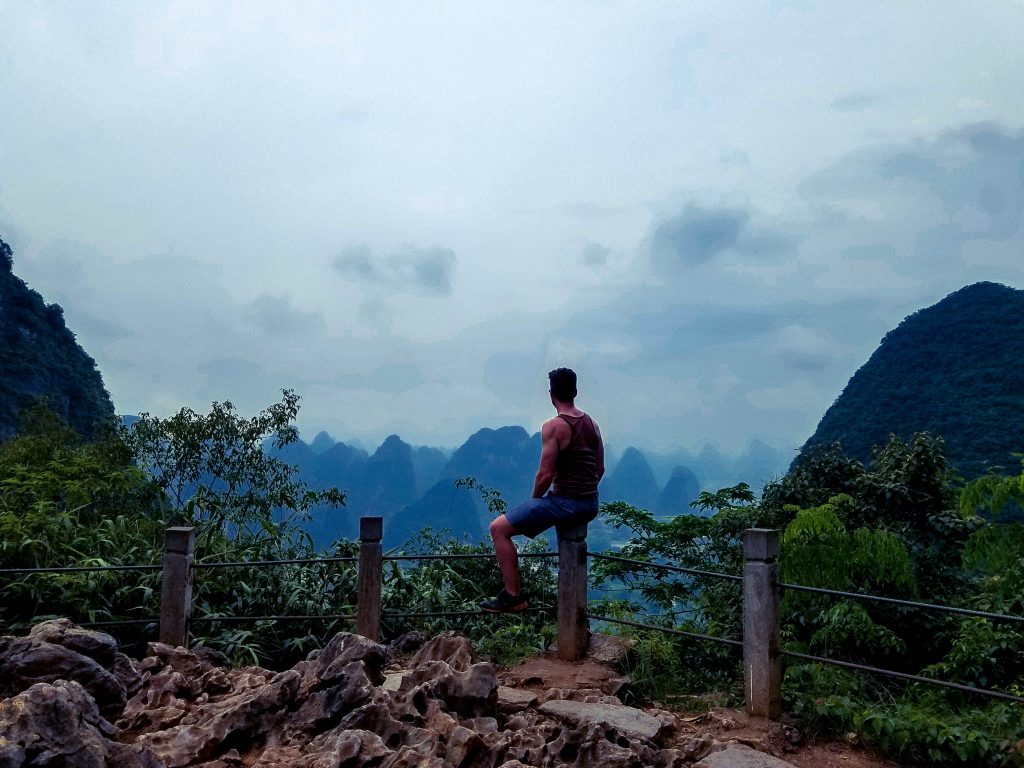 But, as you can see, the view was pretty neat once we squelched up all the million stairs.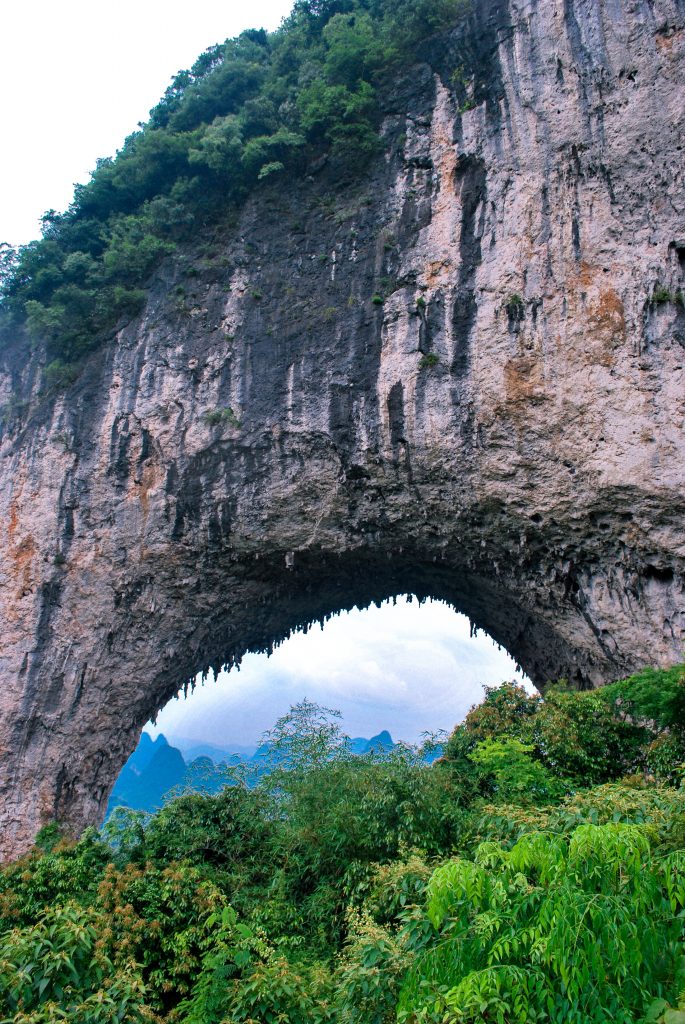 The 1/2 moon? I'm guessing?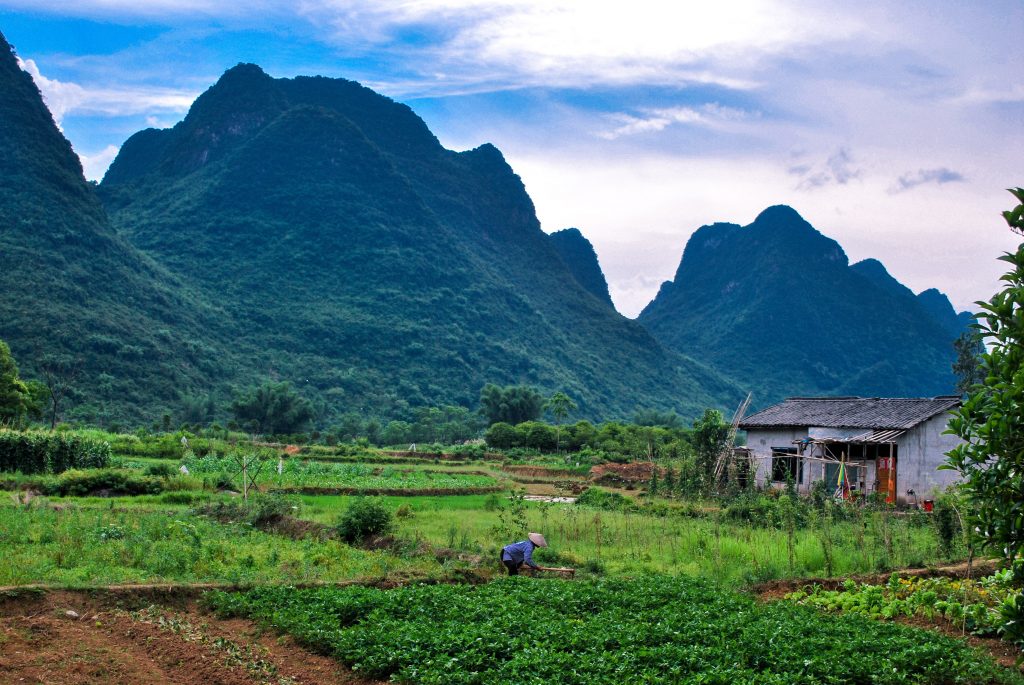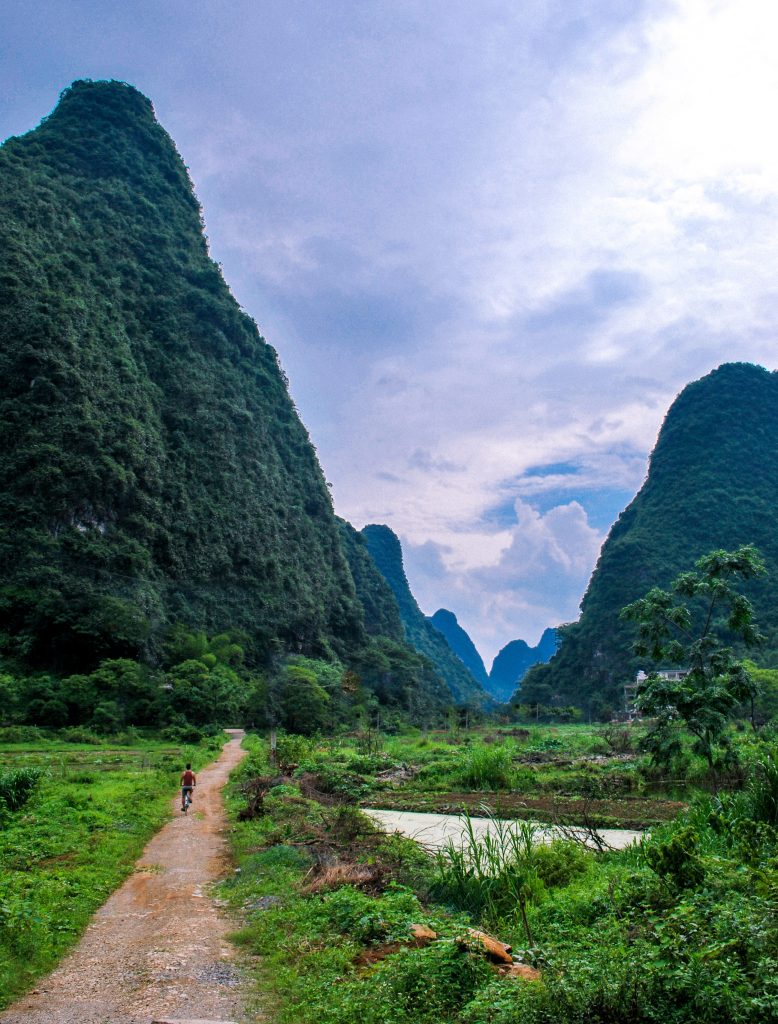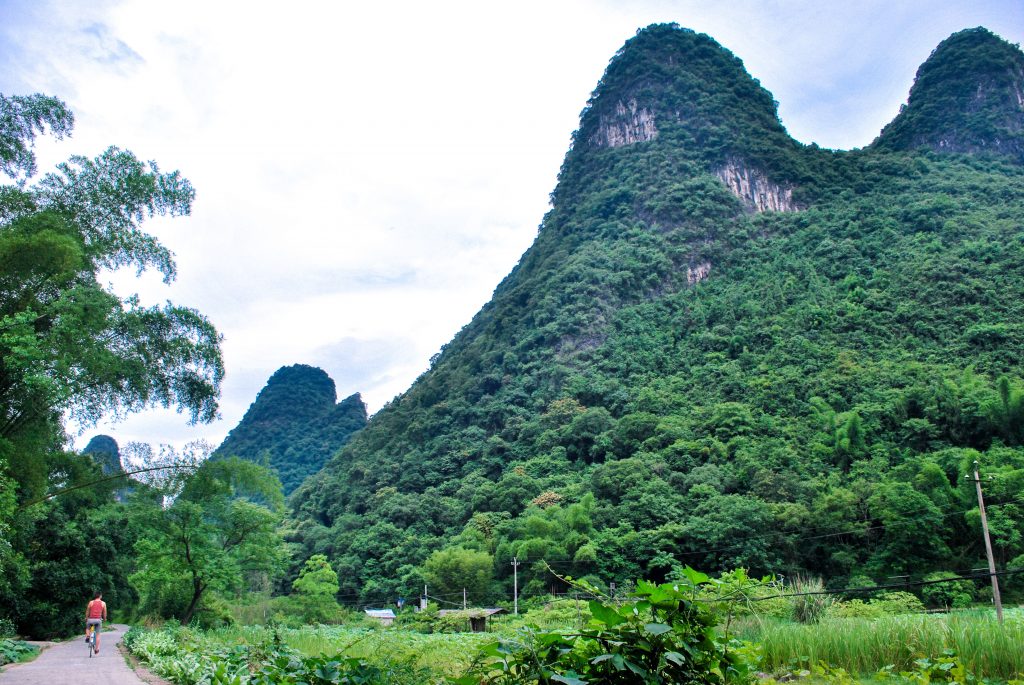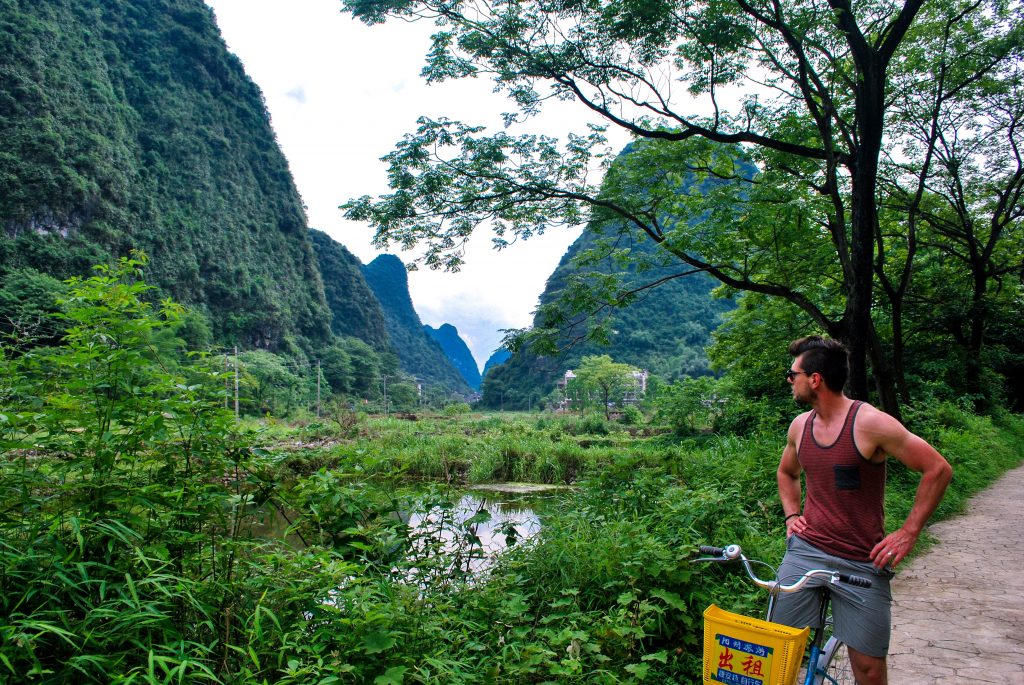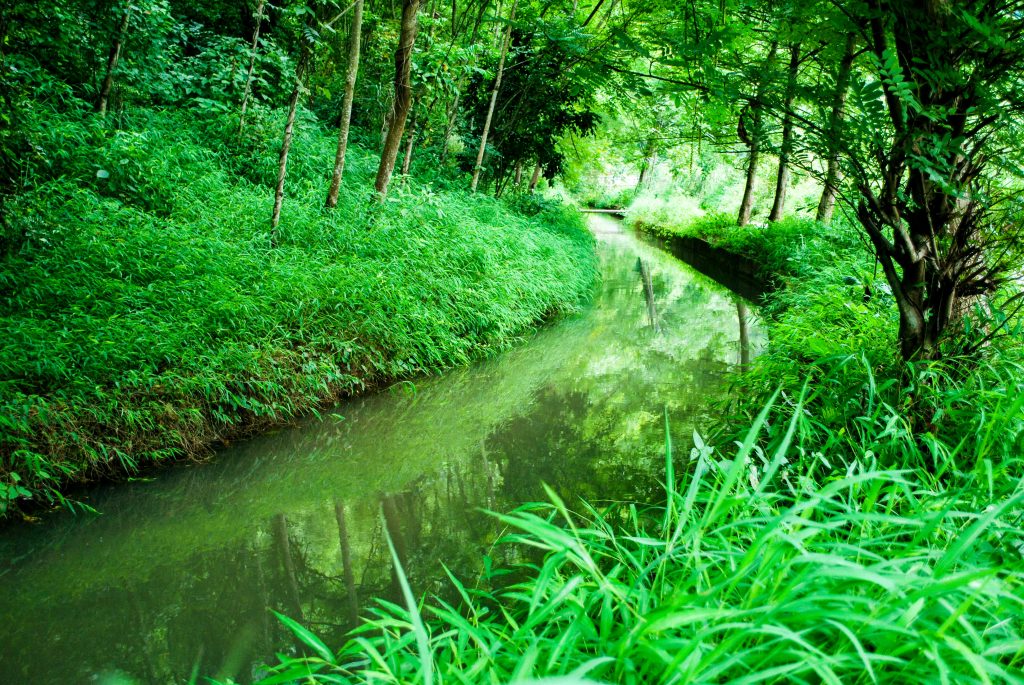 Some Lotus blossoms alongside the road.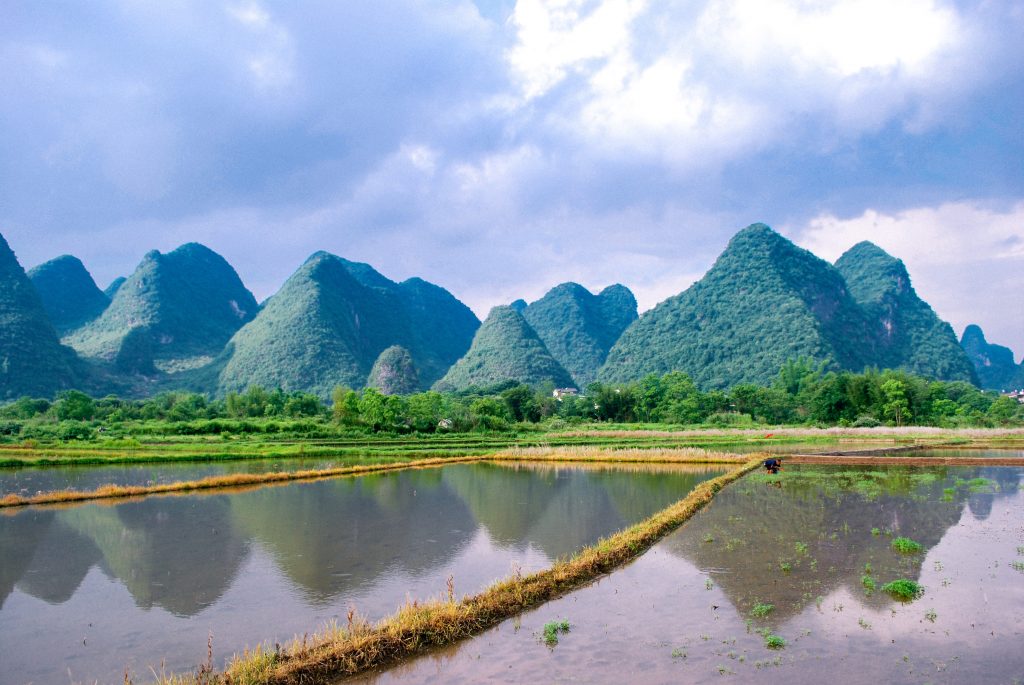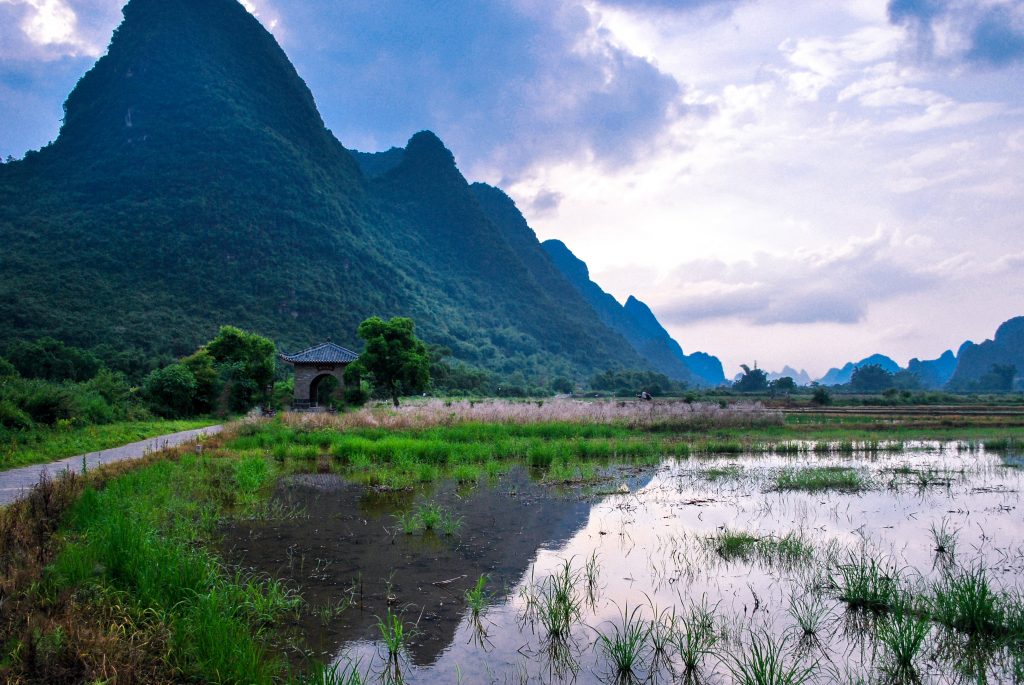 You can't really see the Lí river, but the stone pathway (just to the right of the river) runs through the pagoda and goes for miles. I'm sure we would have gotten farther in our explorations if we hadn't stopped for pictures every few feet.
But so worth it.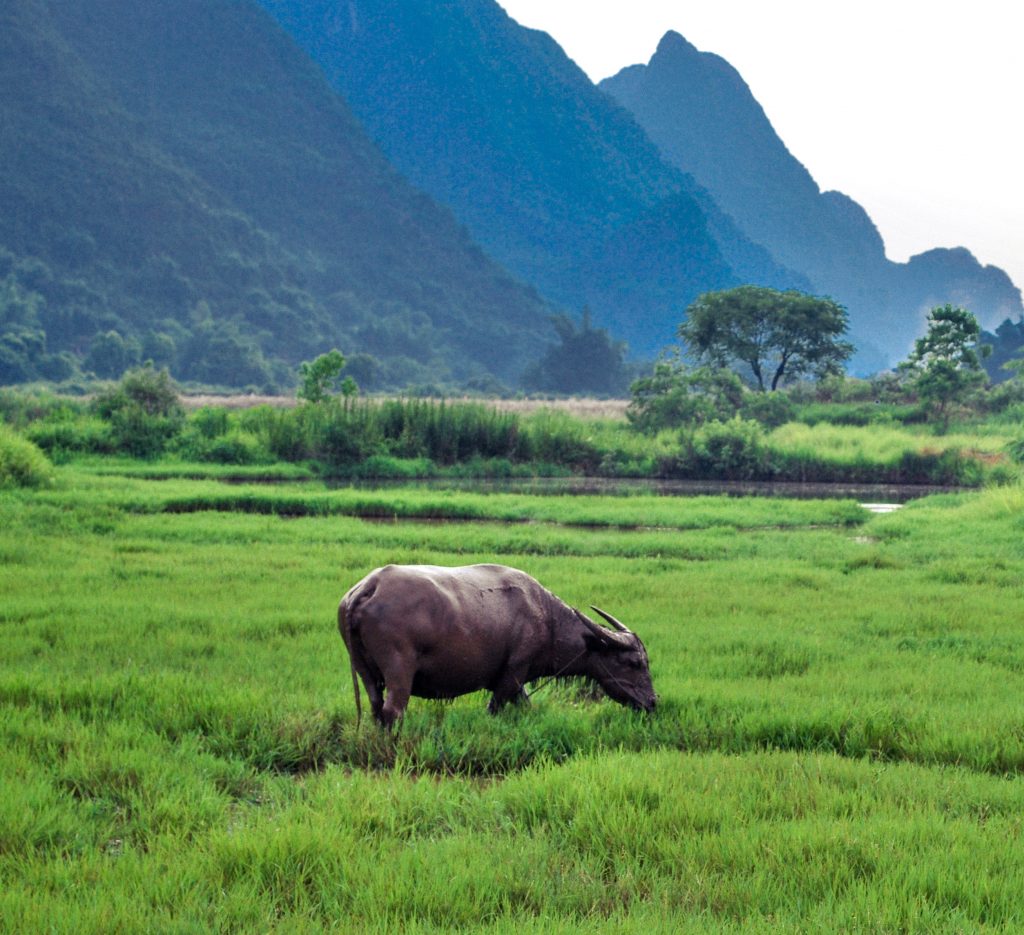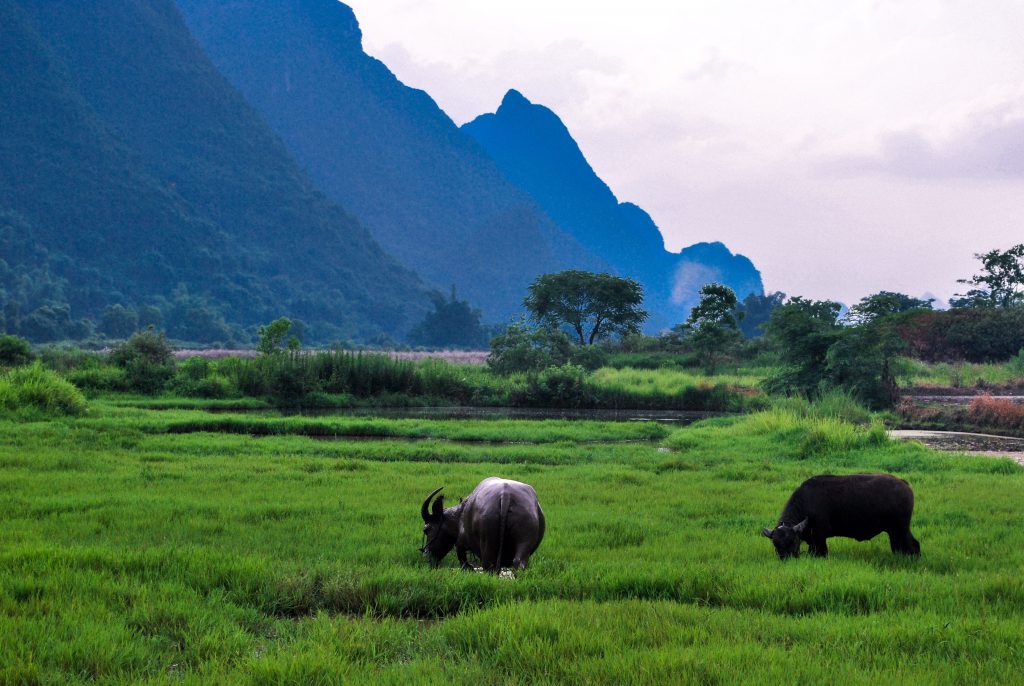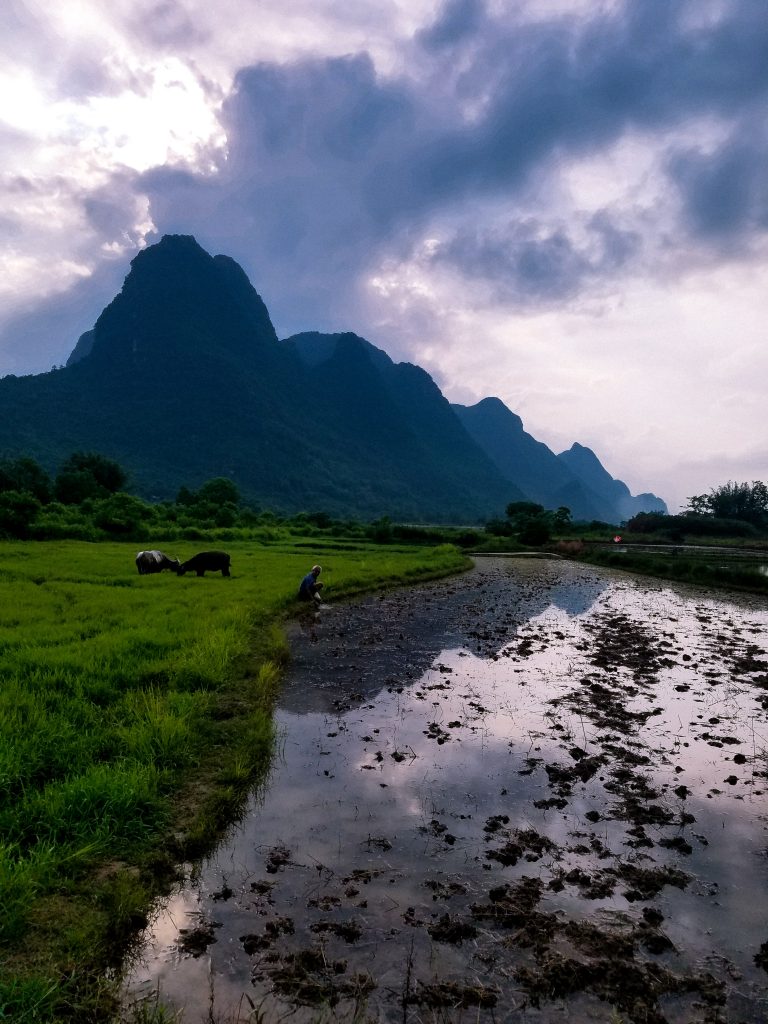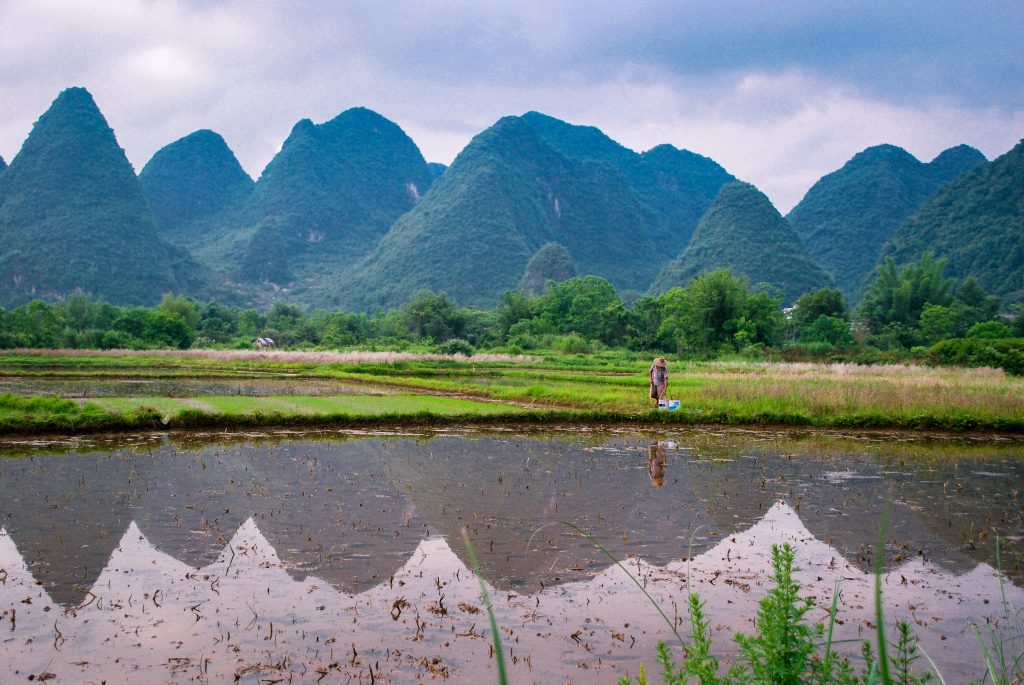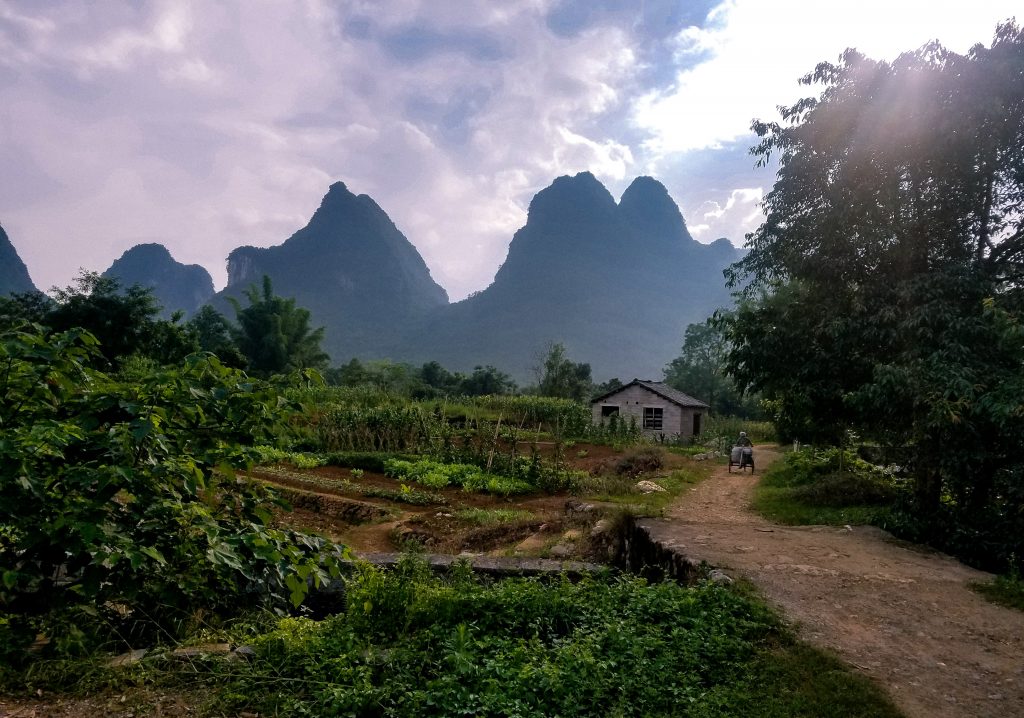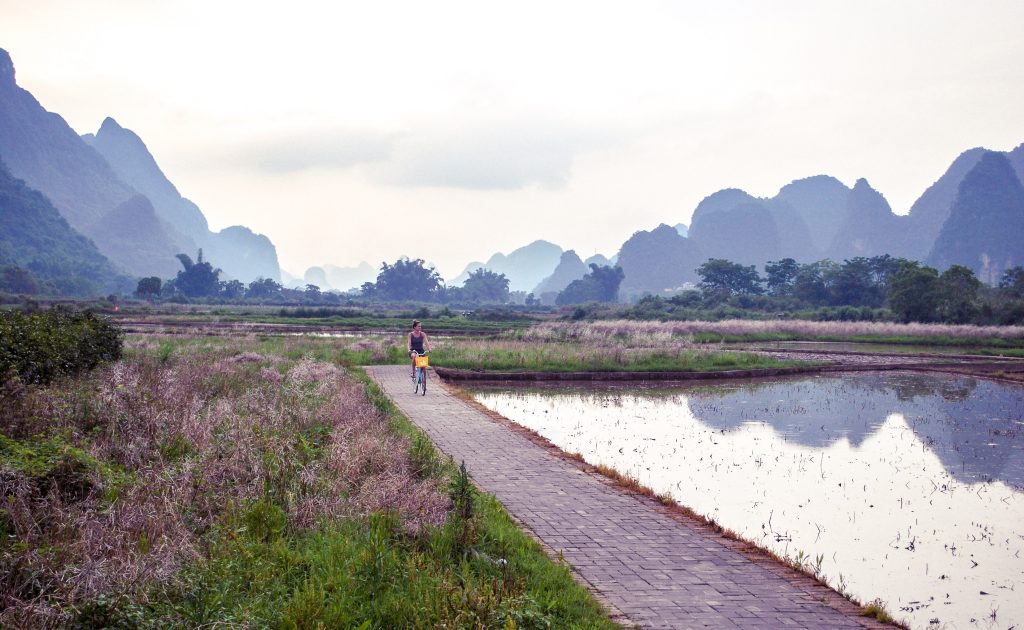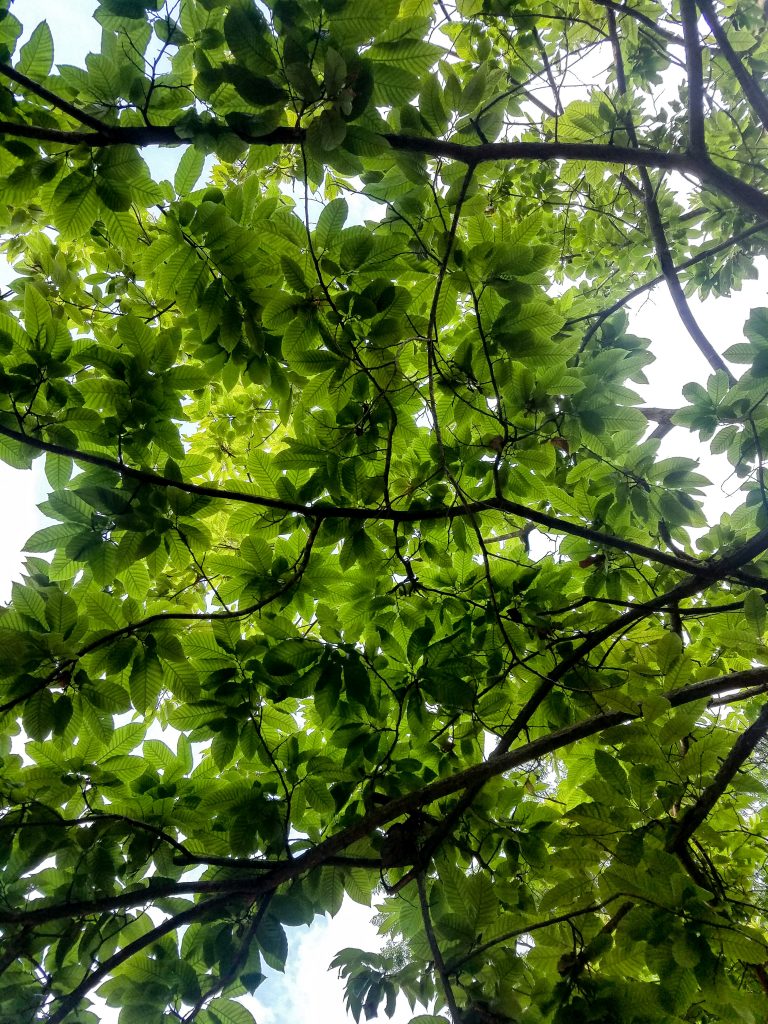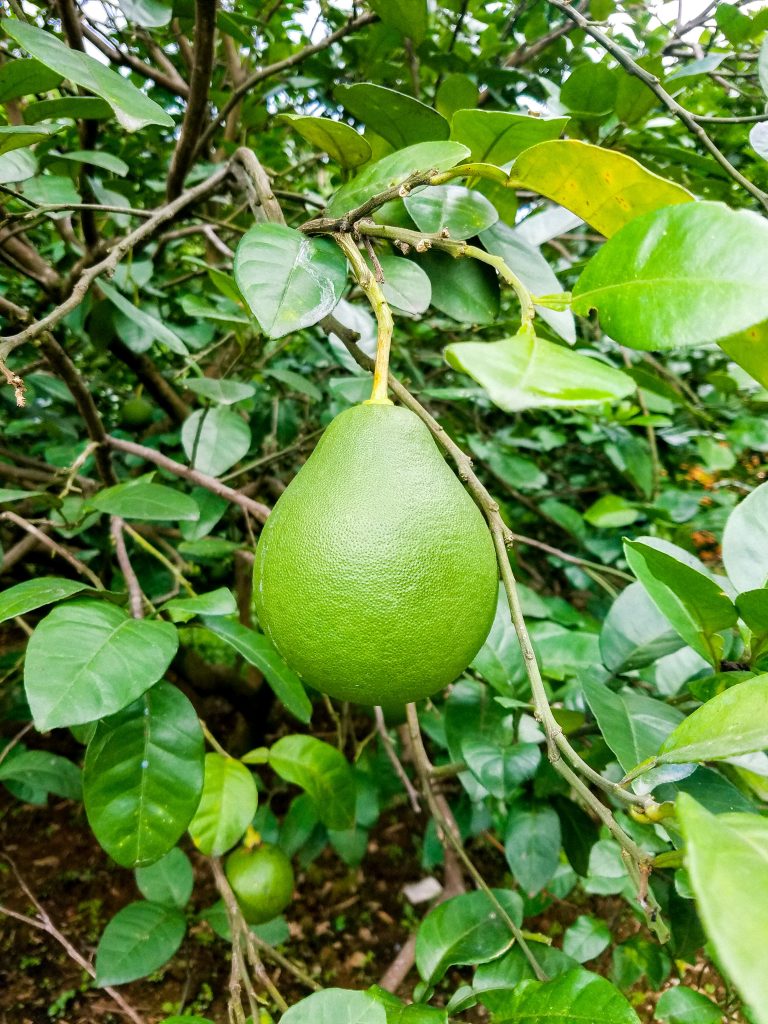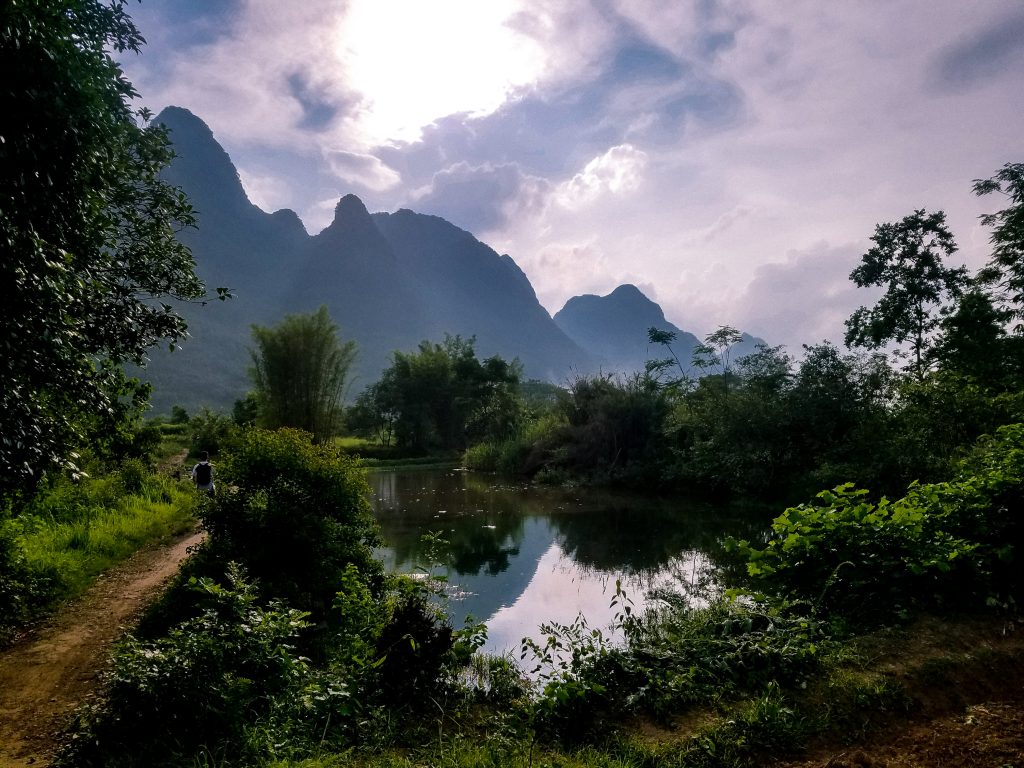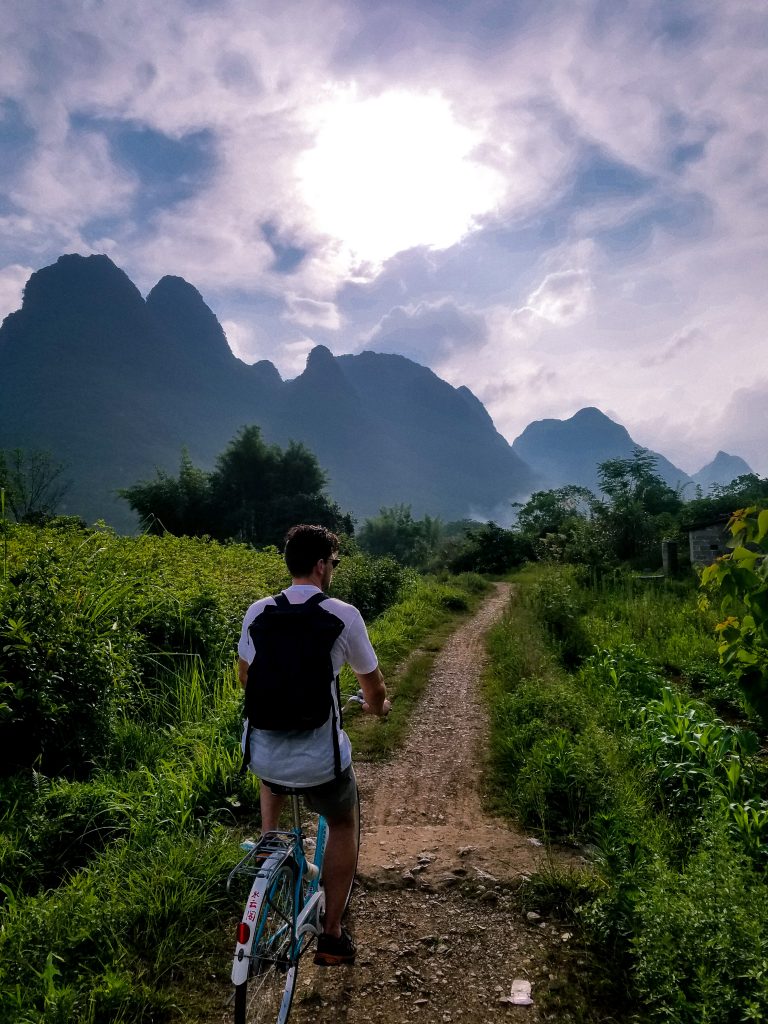 ---
---
Guàngxī- Lóngjì Rice Terraces
Also on my China bucket list was the Lóngjì Rice Terraces. Almost as soon as I found out we were heading east for the Wedding, I was scheming to go and see it for myself. These terraced rice paddies have been around for hundreds of years. They might have remained relatively obscure if it weren't for a photographer, Li Yashi who relocated to the area around 1990 and started capturing the beauty for the rest of the world. Now, though still rural, its residents are capitalizing on its tourism draw. Construction is everywhere, getting there is a nightmare, but it's worth the hassle.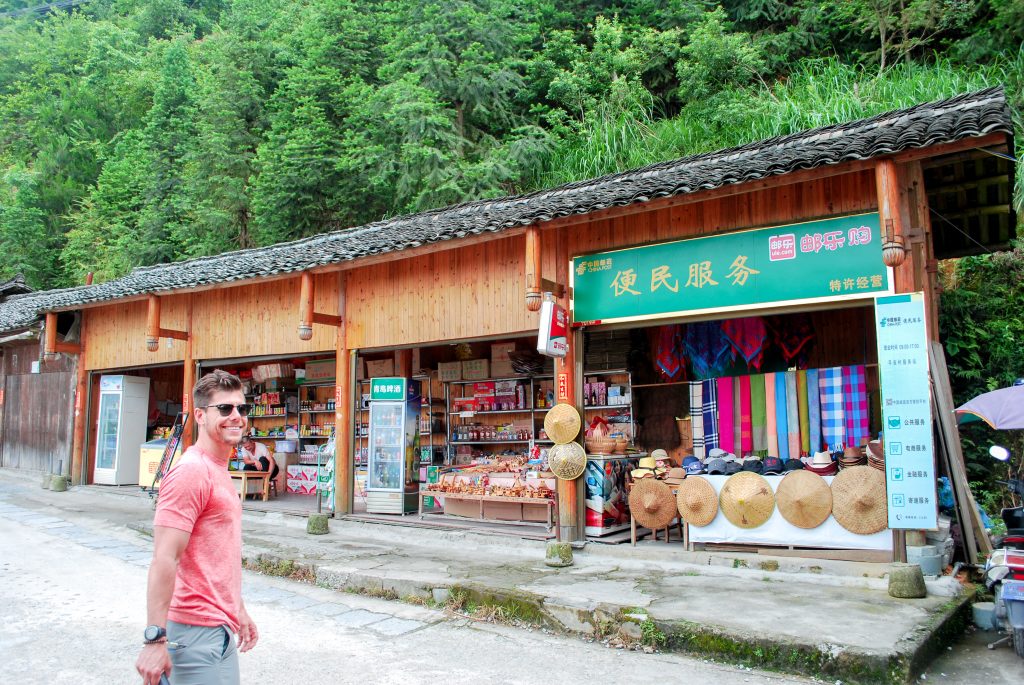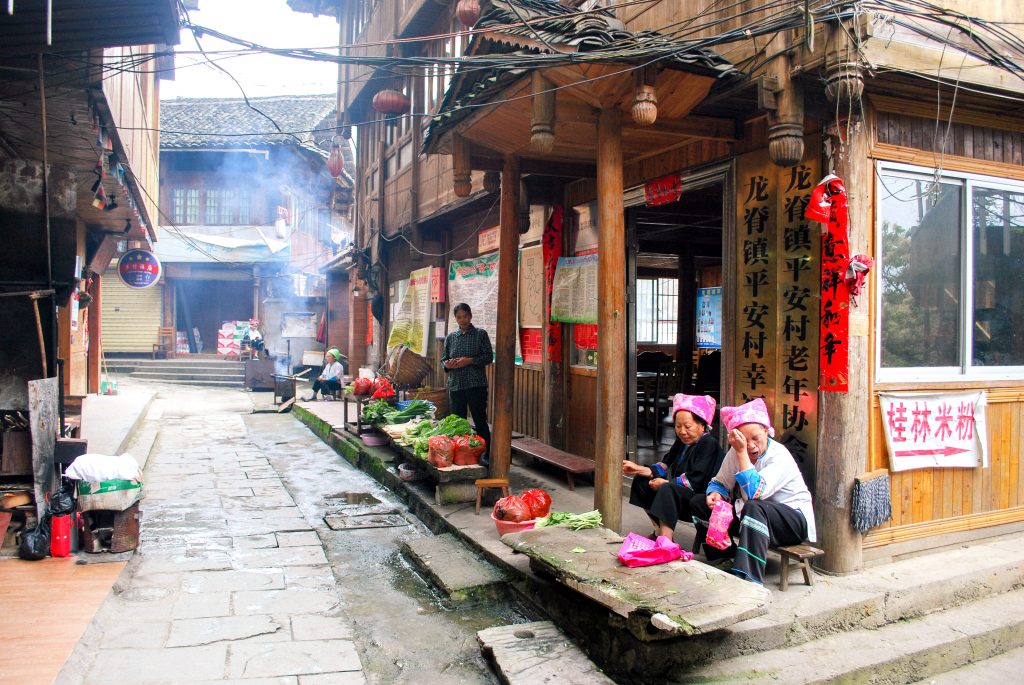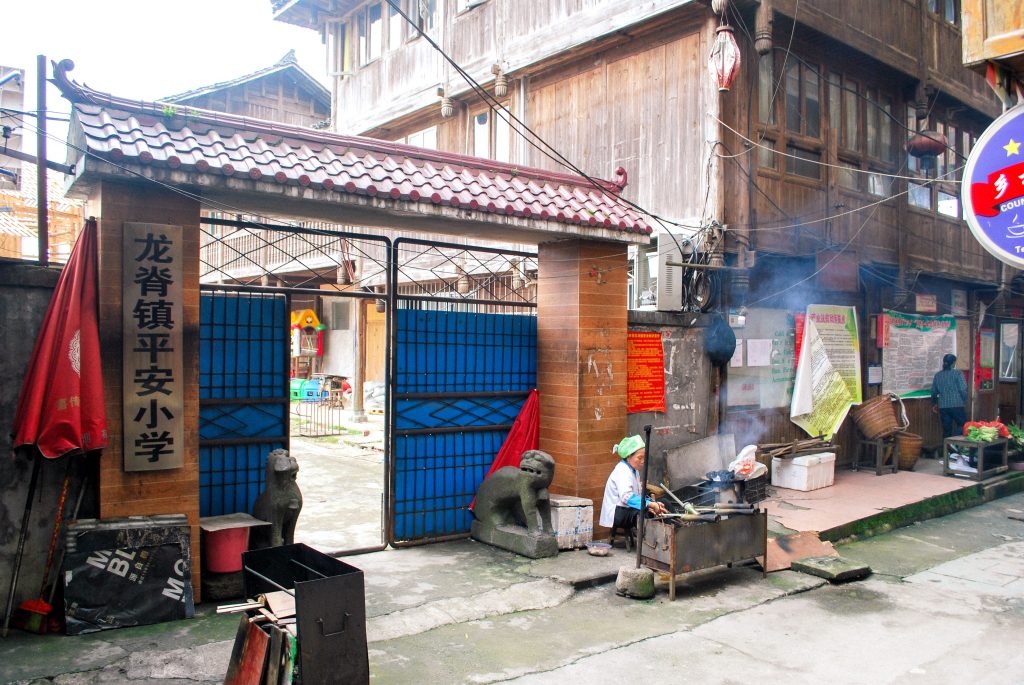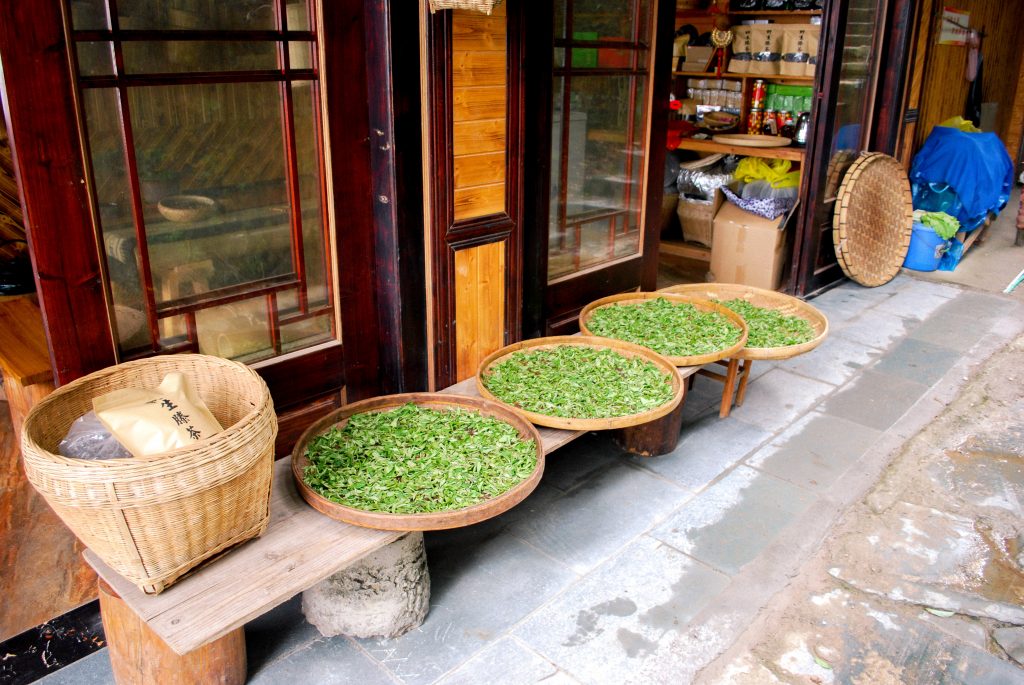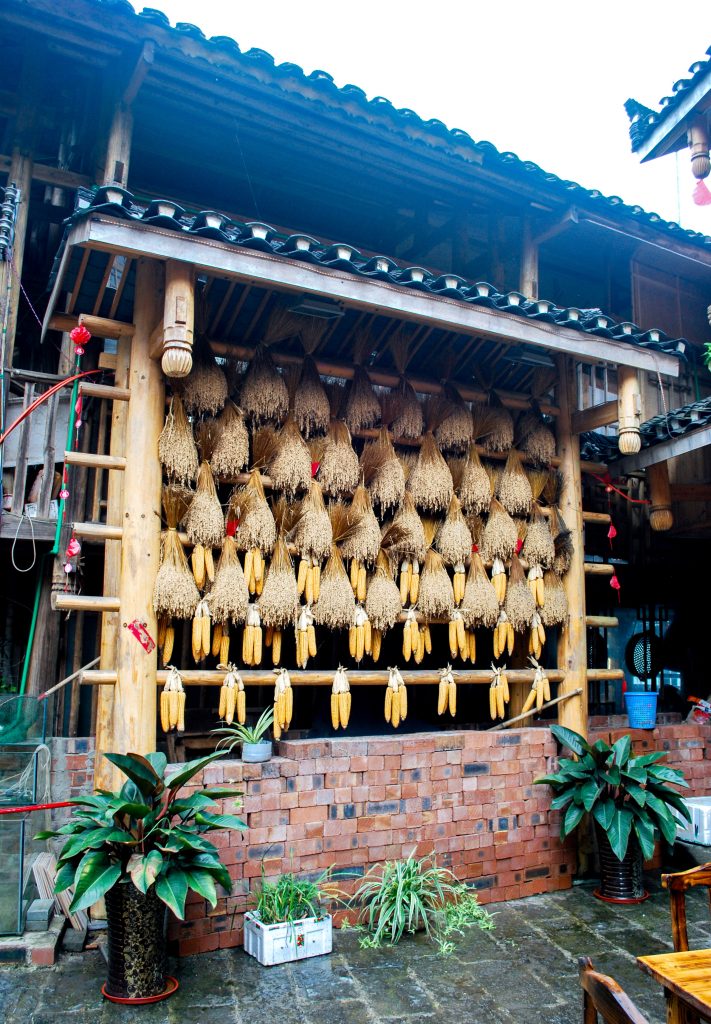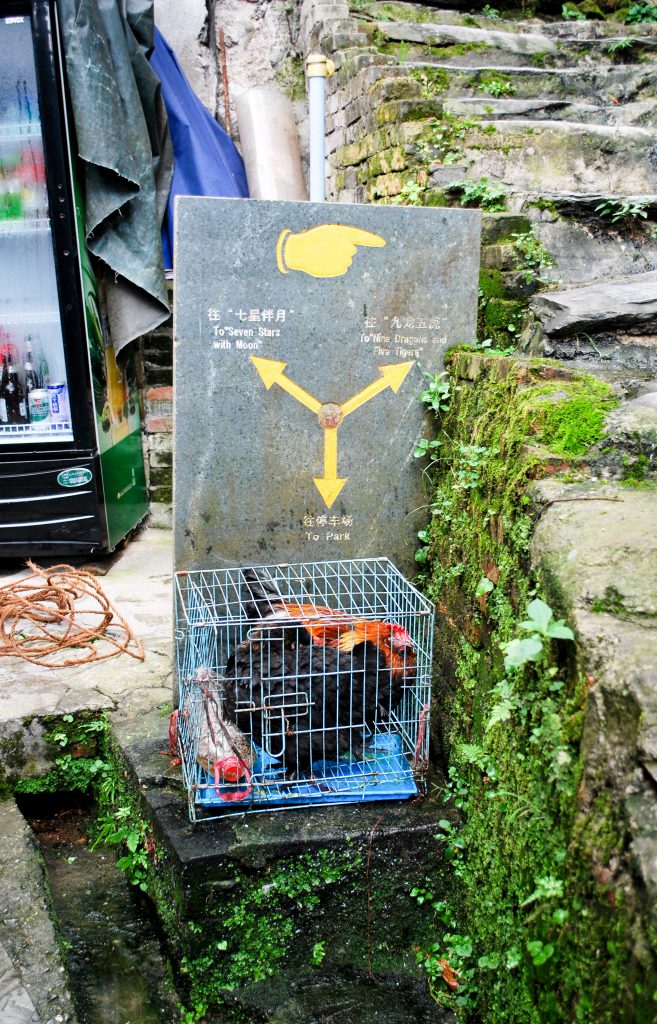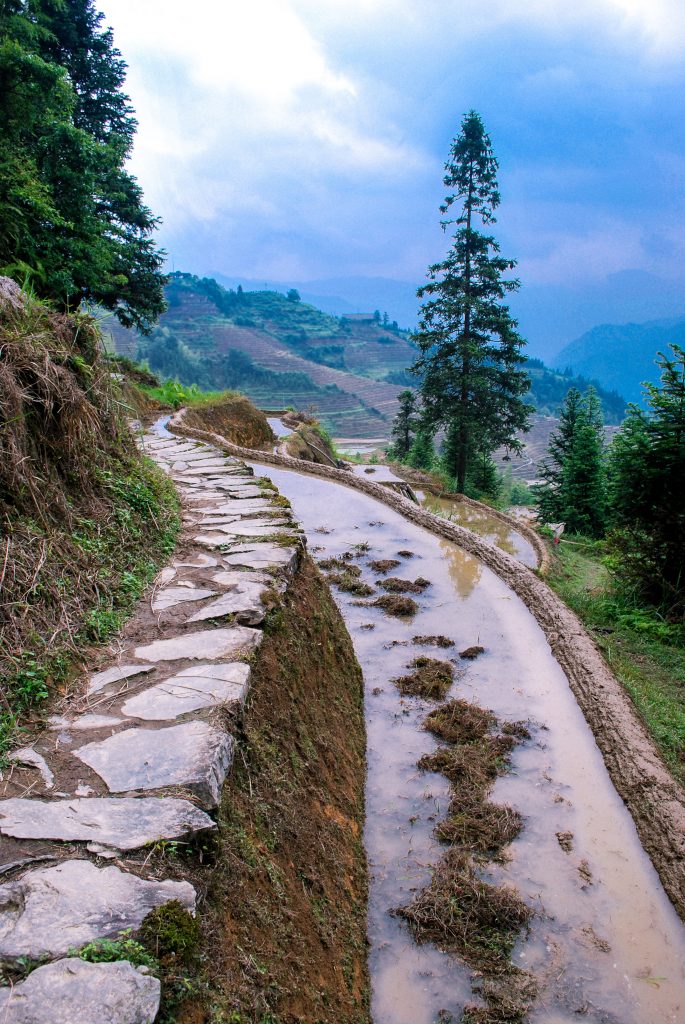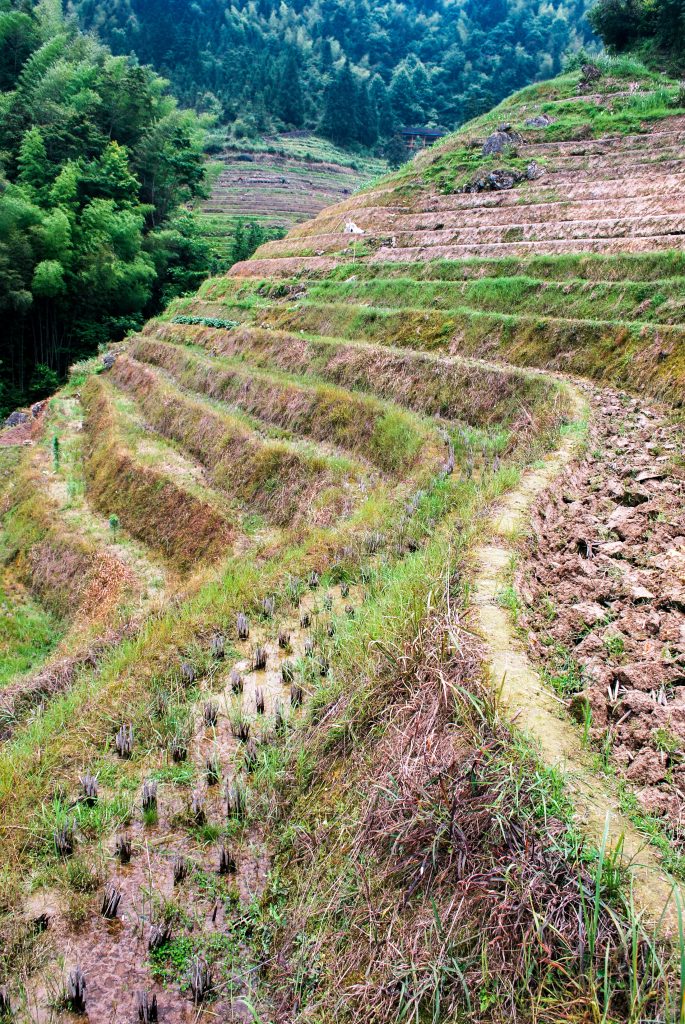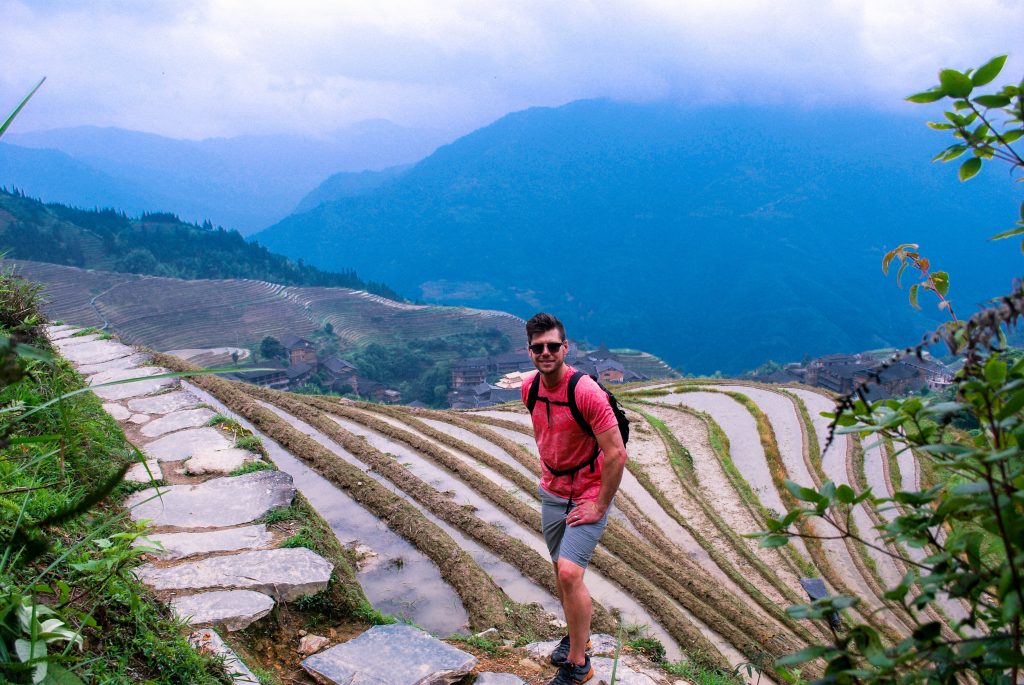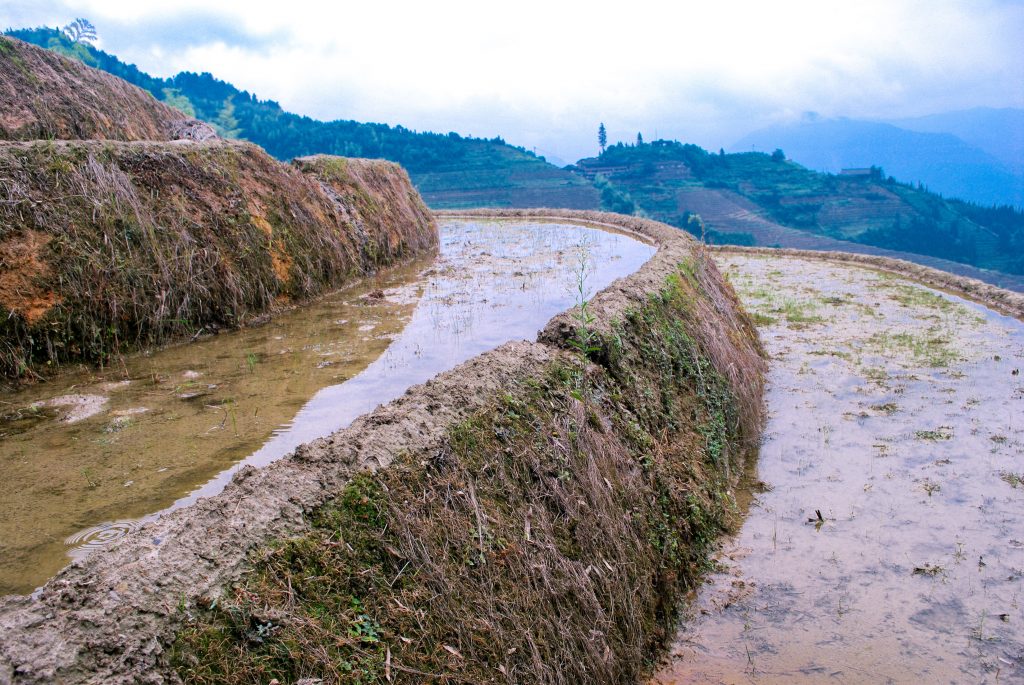 I left my traditional costume at the hotel. Best I could do!
---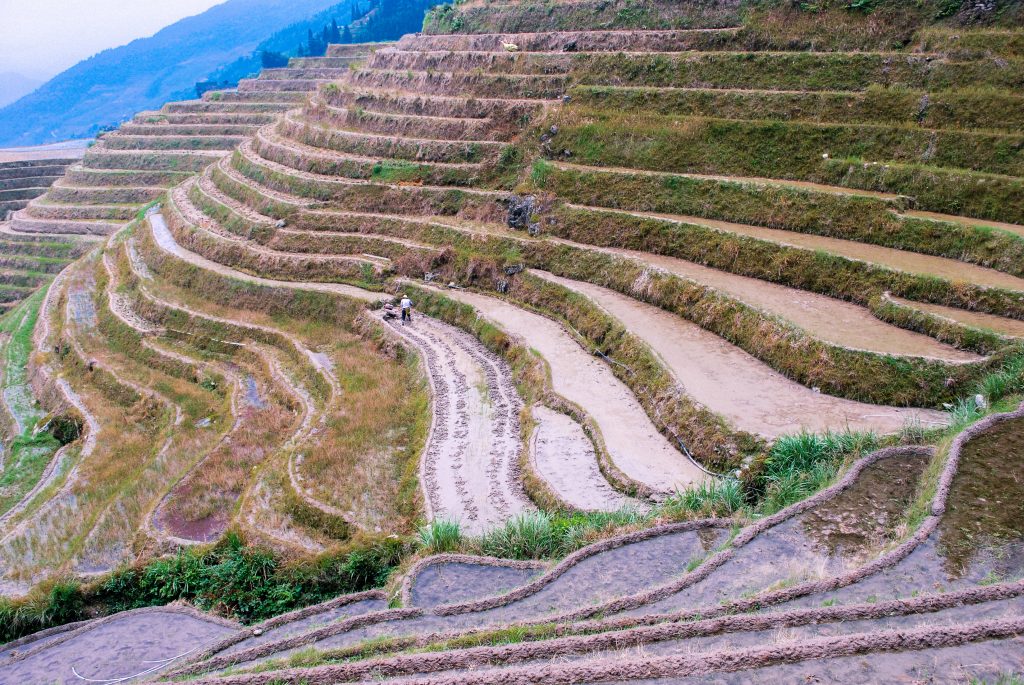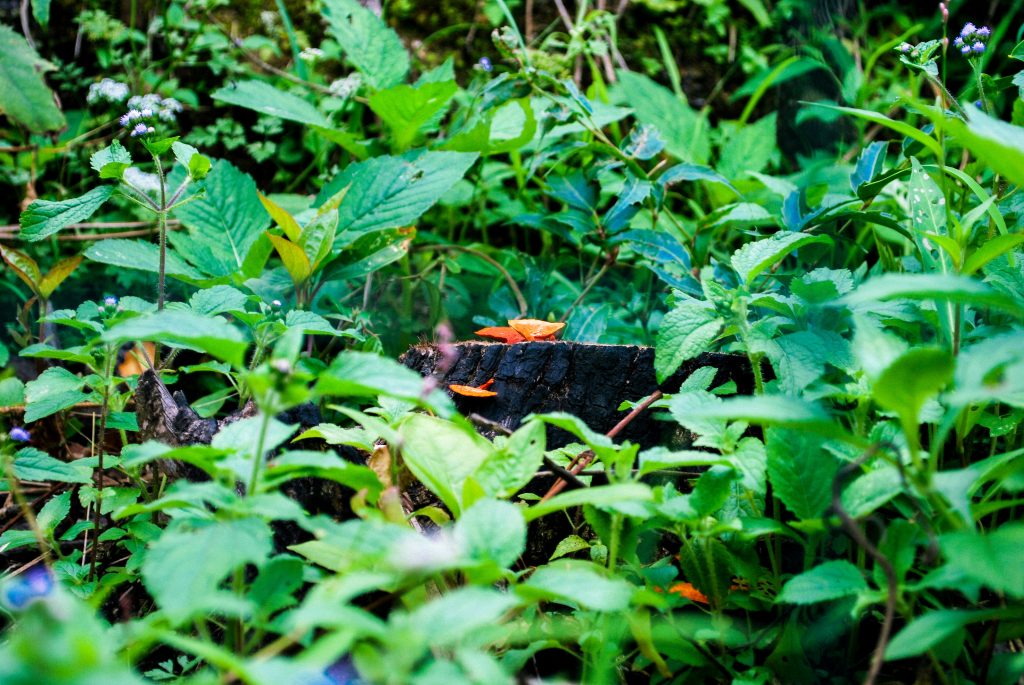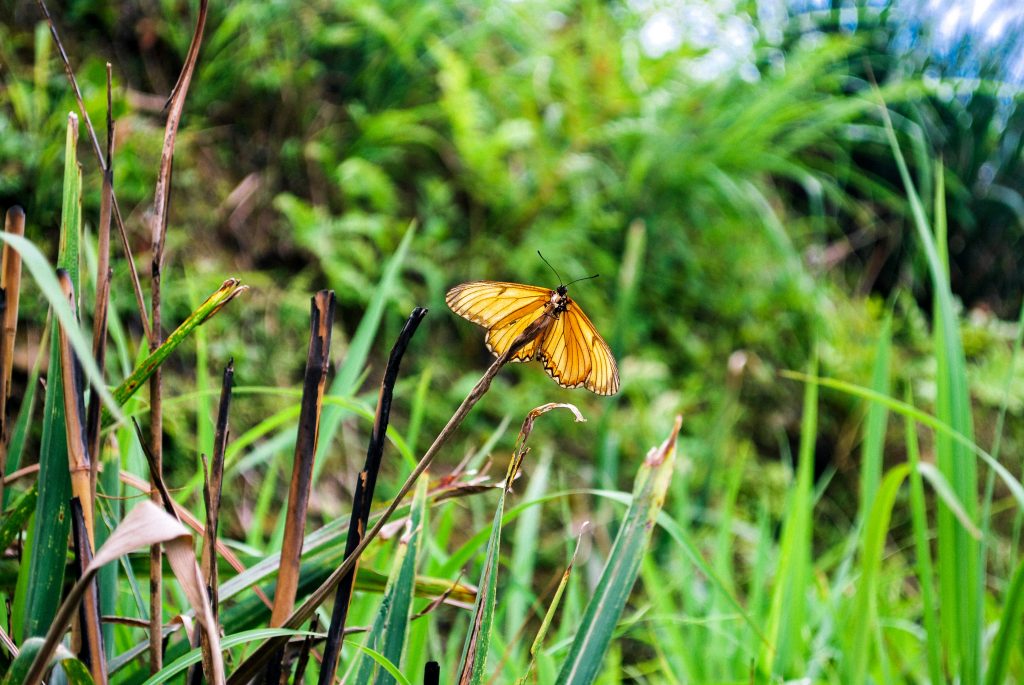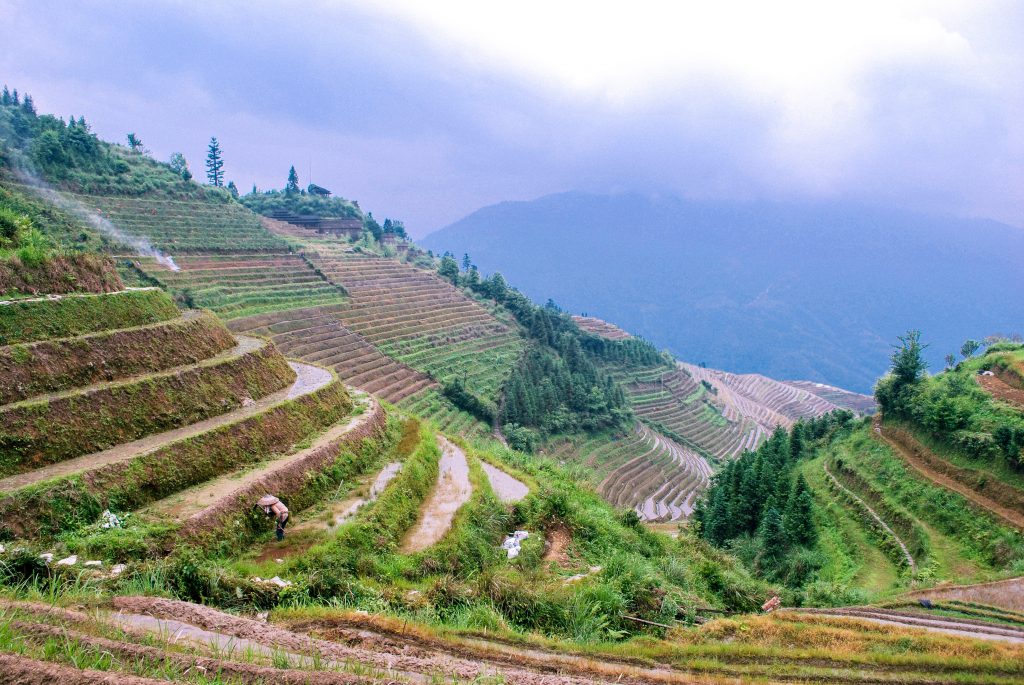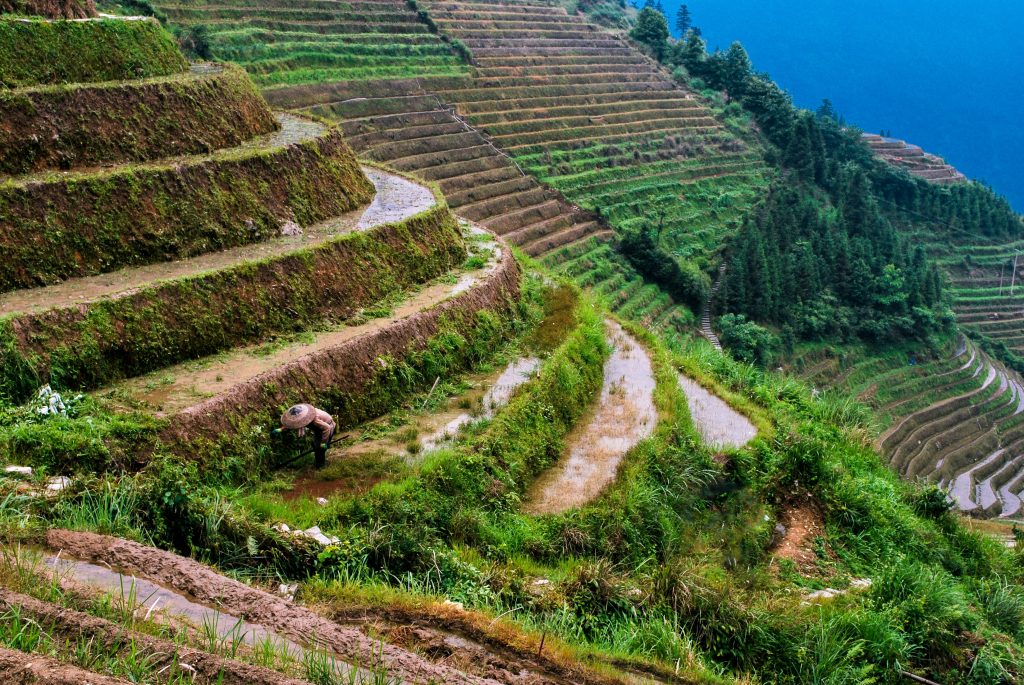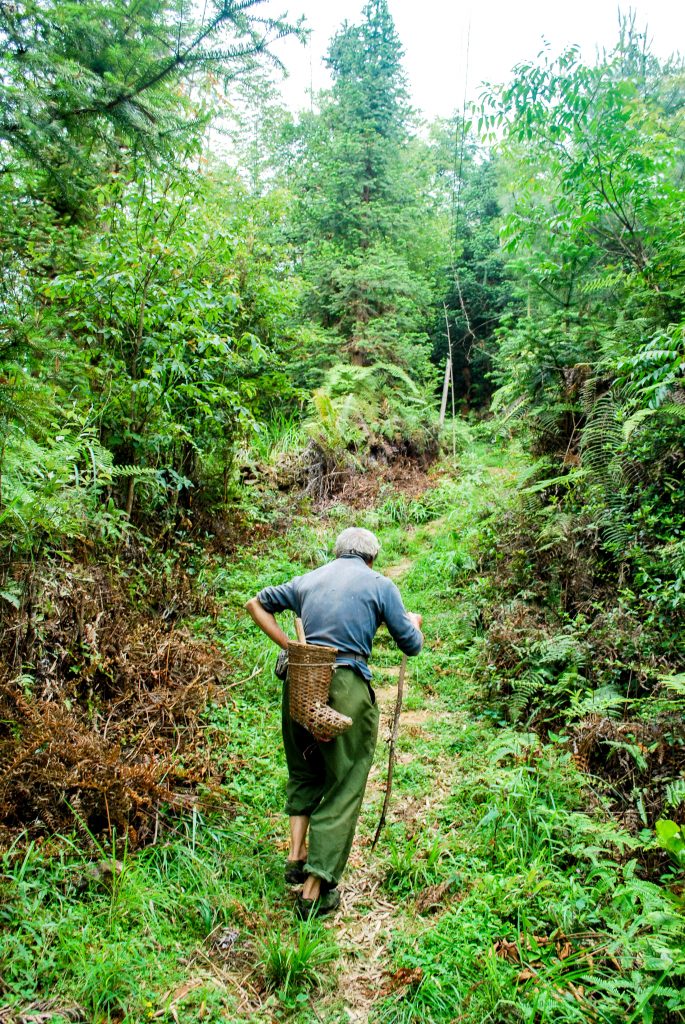 ---
Lí River
We did take a Bamboo raft ride down the Lí River from Guìlín to Yángshuò. It was pretty awesome. Like floating down a postcard.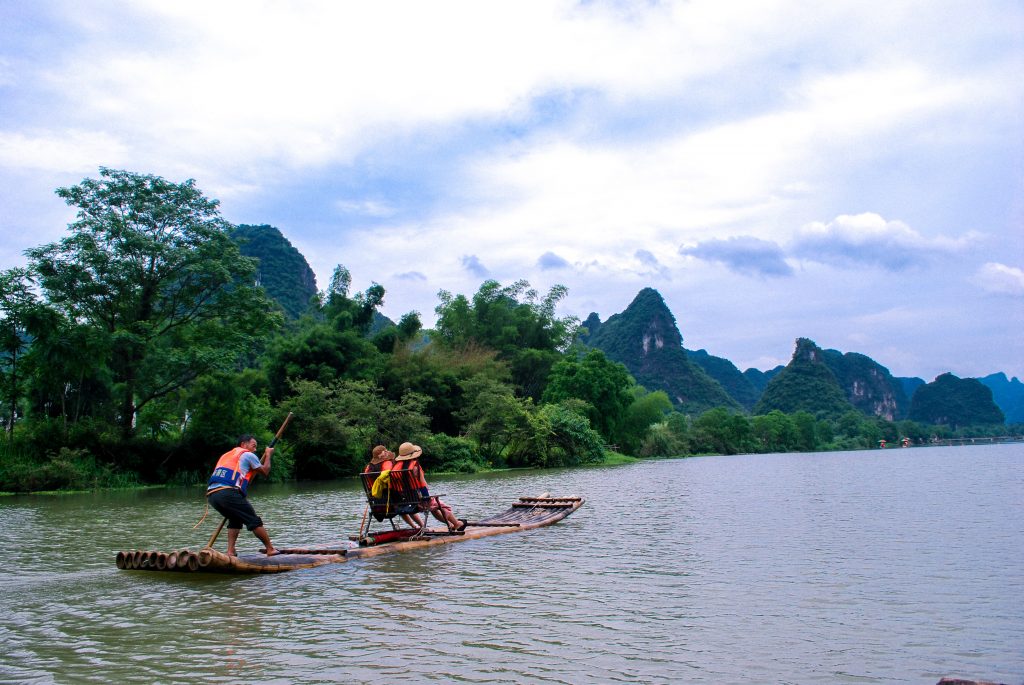 Only once we were on board our raft did our "guide" tell us, with so many gesticulations, to pick up our feet and possessions when going over little waterfalls (as seen below). Spoiler alert: we– surprisingly– stayed upright the entire time.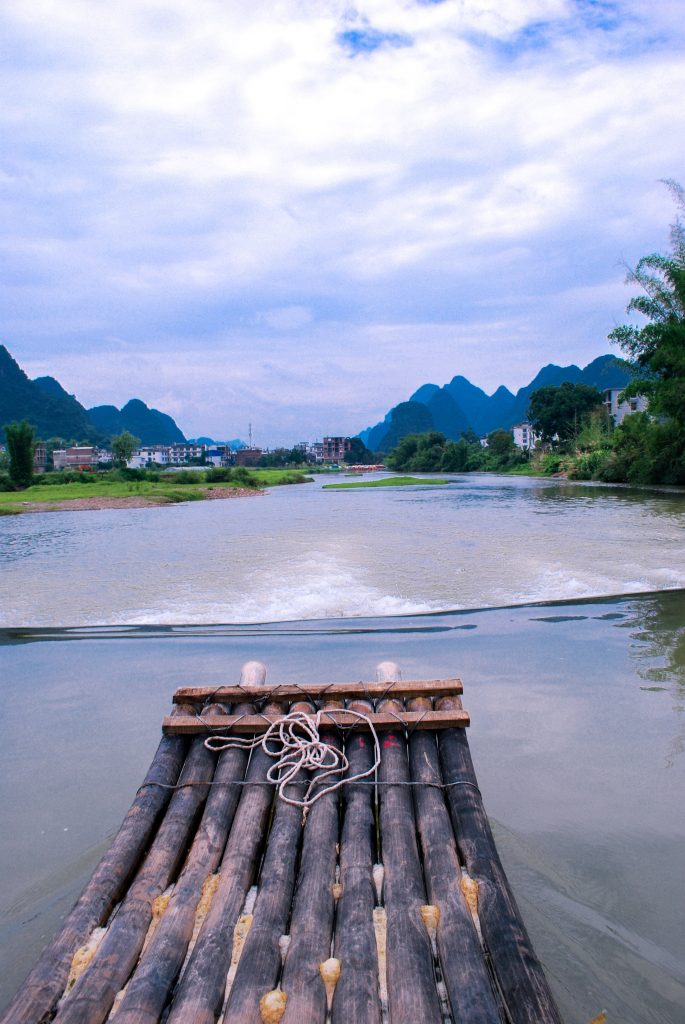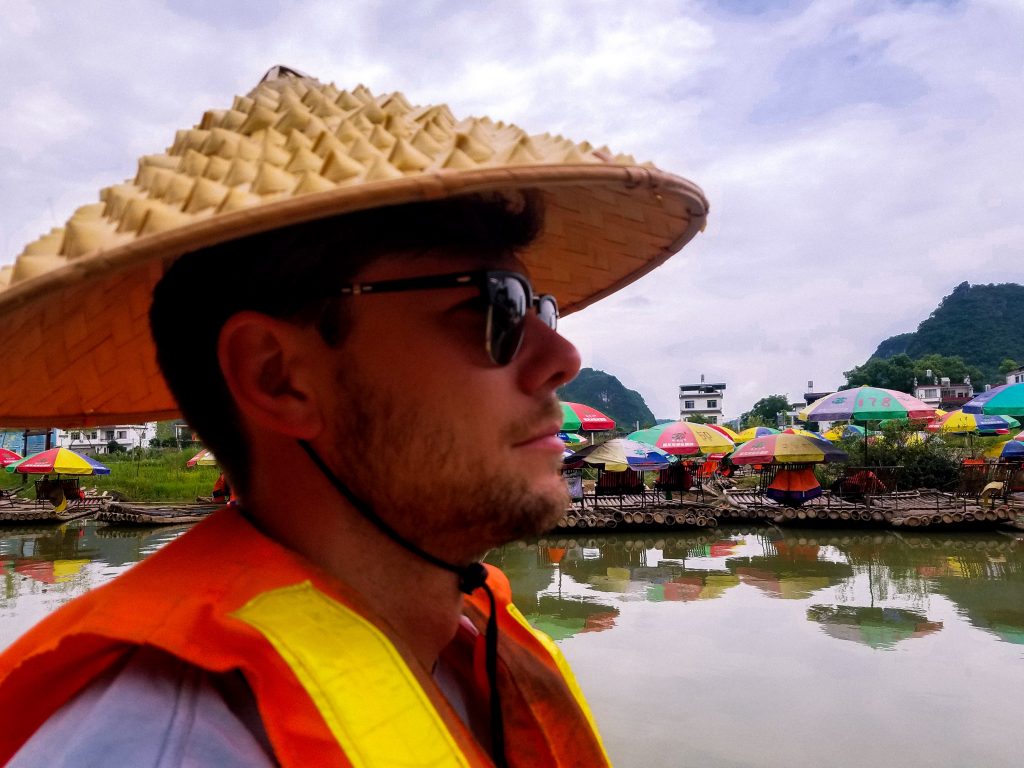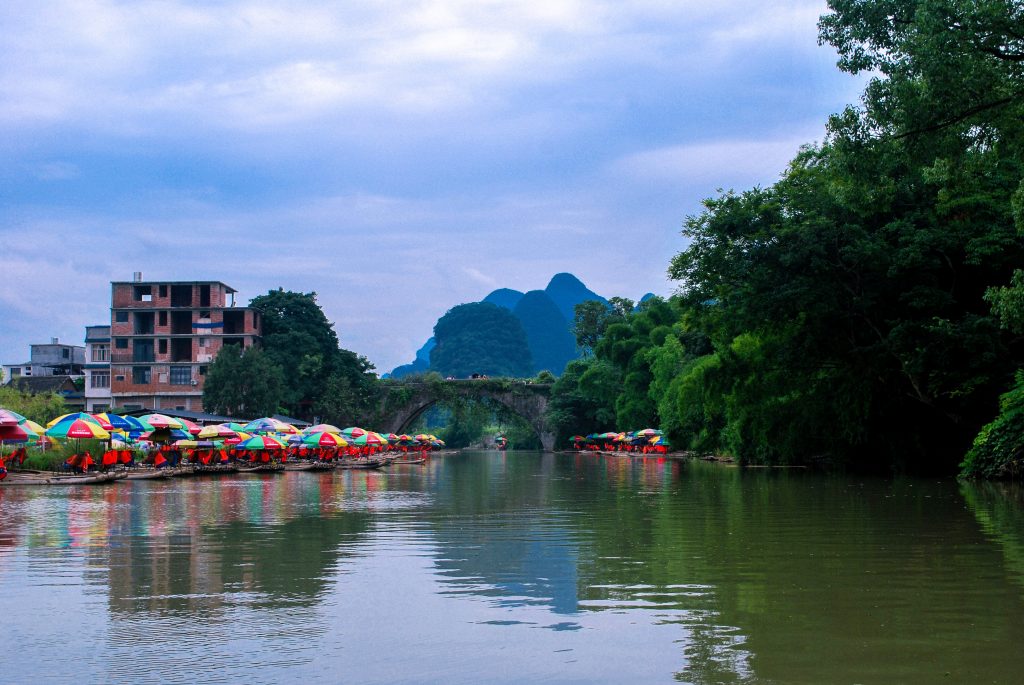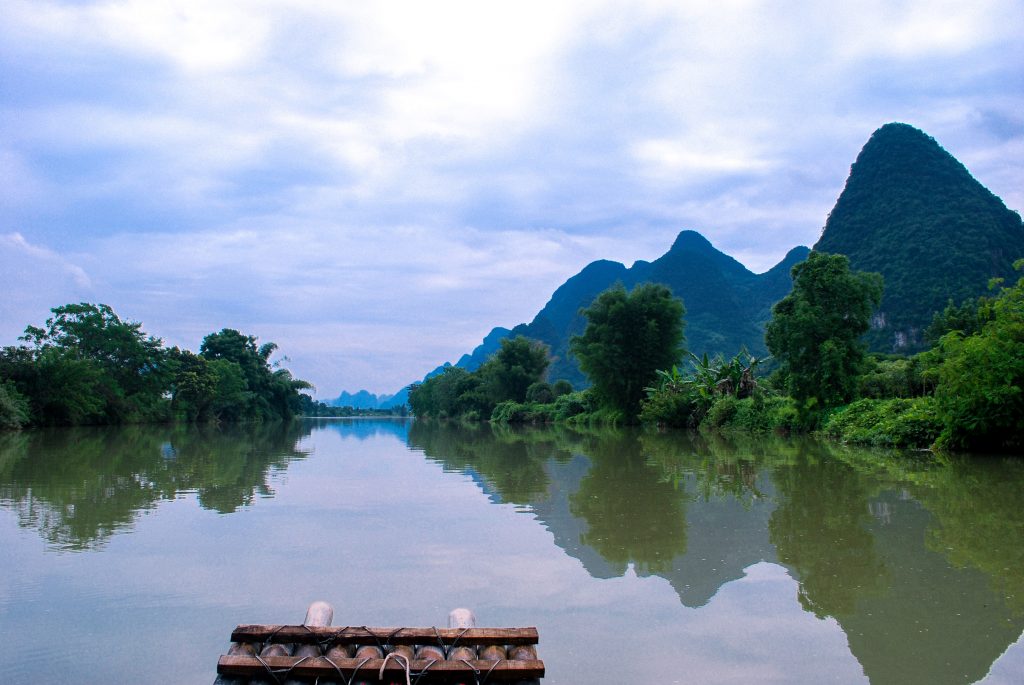 Optional of course was the "raft-through" beer lady above on the right. Of course we splashed out. A little liquid courage for the dozen waterfalls we went down.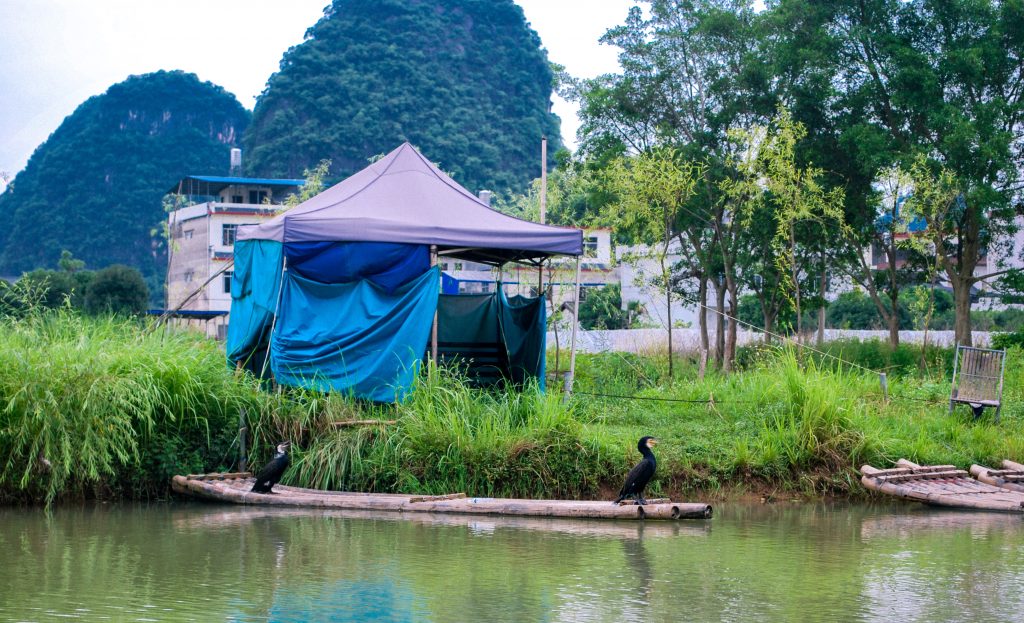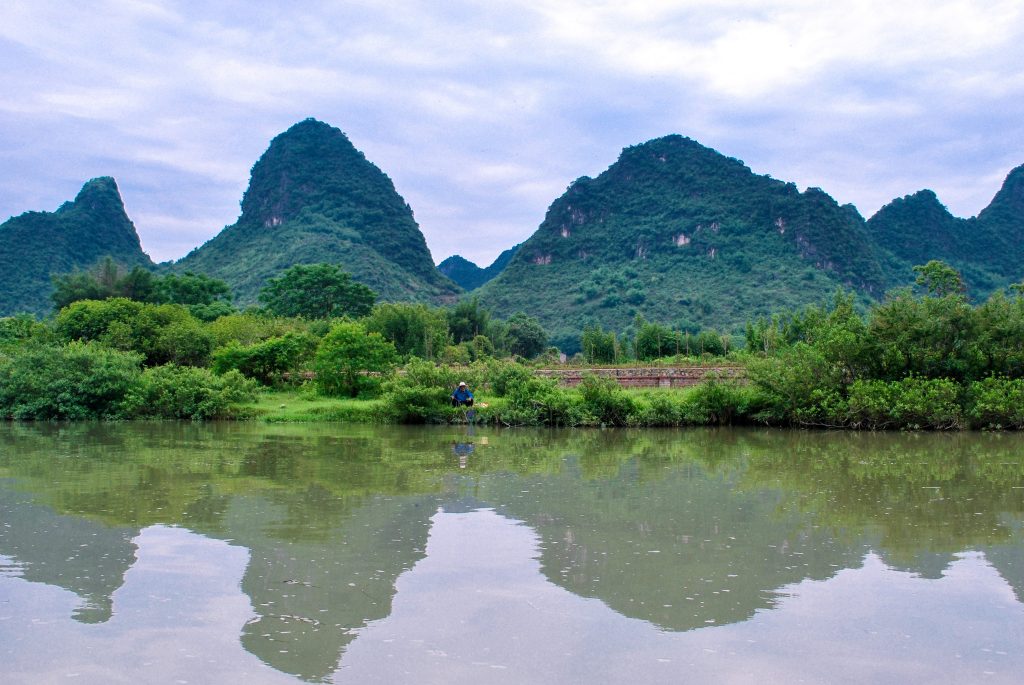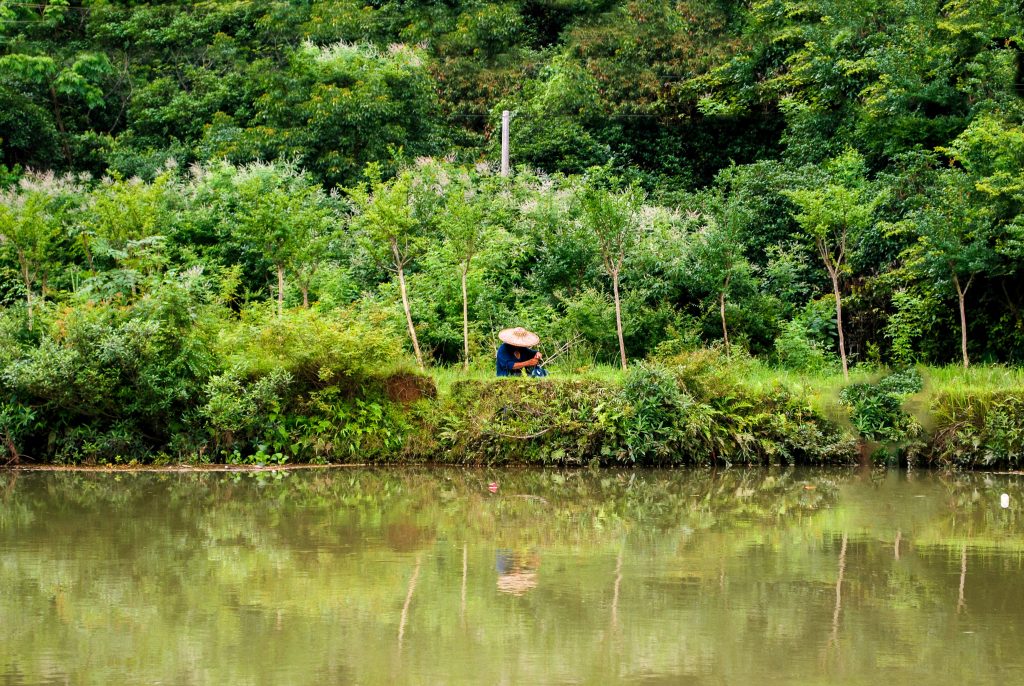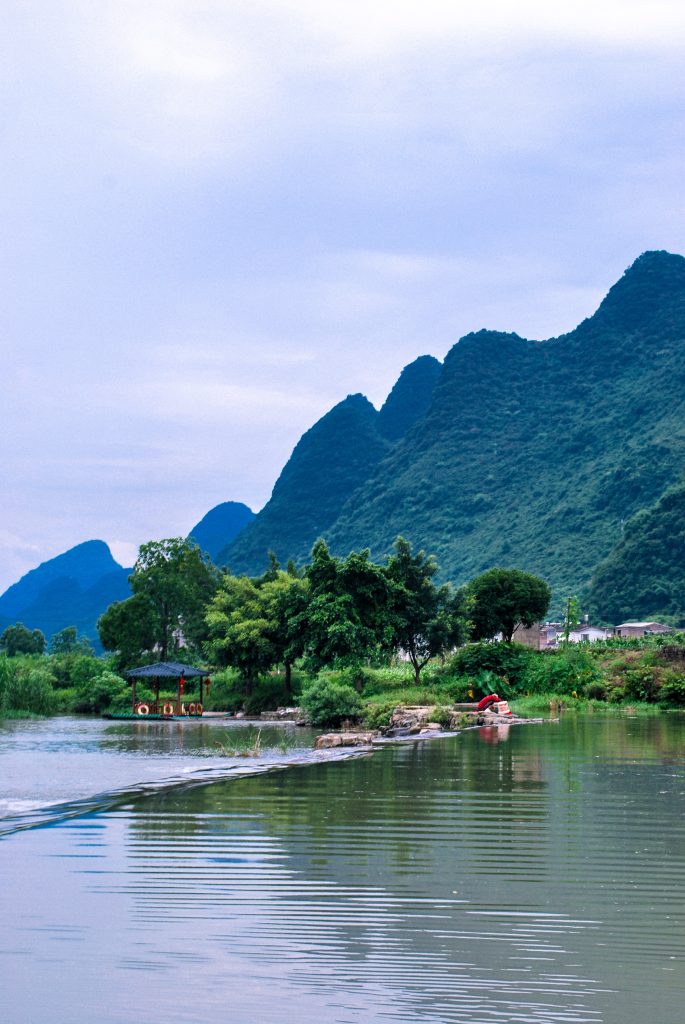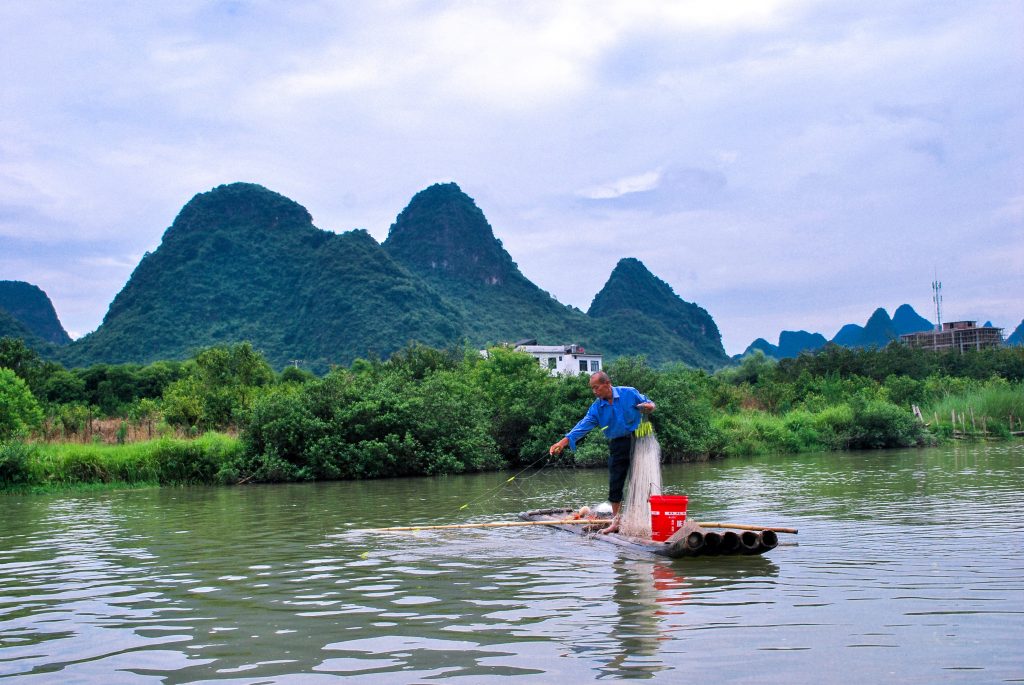 ---
Guìlín
From Guàngzhōu we flew directly into Guìlín. It's still a pretty good sized city, which made me extra thankful for Lonely Planet's advice to not make it a long stay there. We ended up staying 2 nights in the Shangri La (another place I would highly recommend) and used the area as a launching pad for the terraced rice fields. After reading about the complicated and time-consuming methods of getting to the fields, we agreed it was best to hire a private driver to take us there and back. Sure, it cost a bit more than the public transportation, but we actually got there (may not have happened if we tried on our own) and it took far less time with far more comfort. Do your own research and see if it makes sense for your travel needs and budget. Just hire a car. Seriously.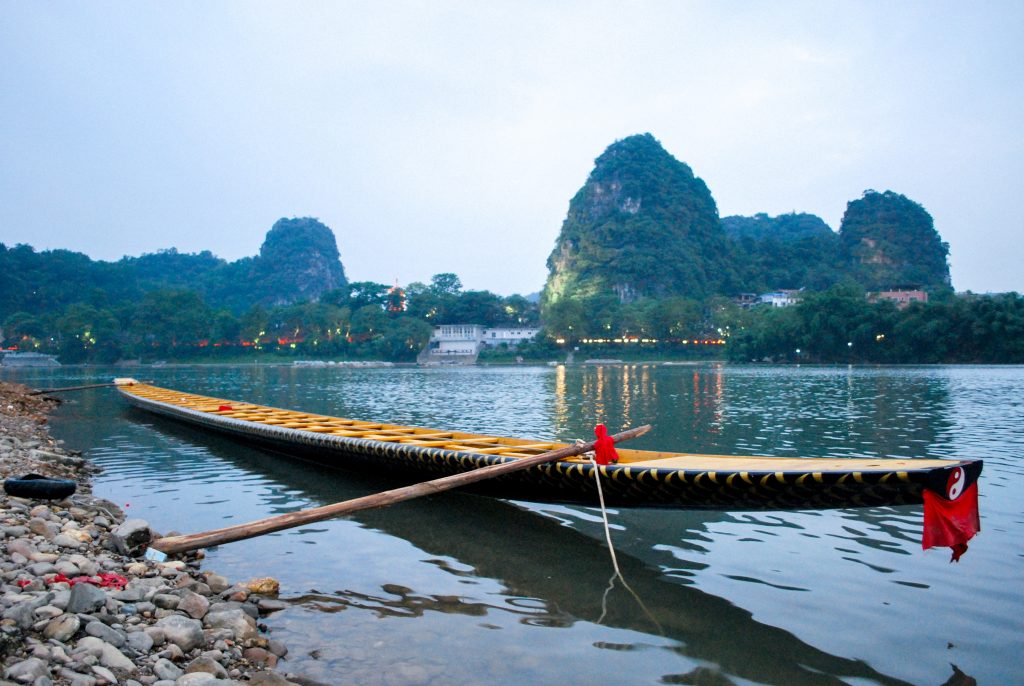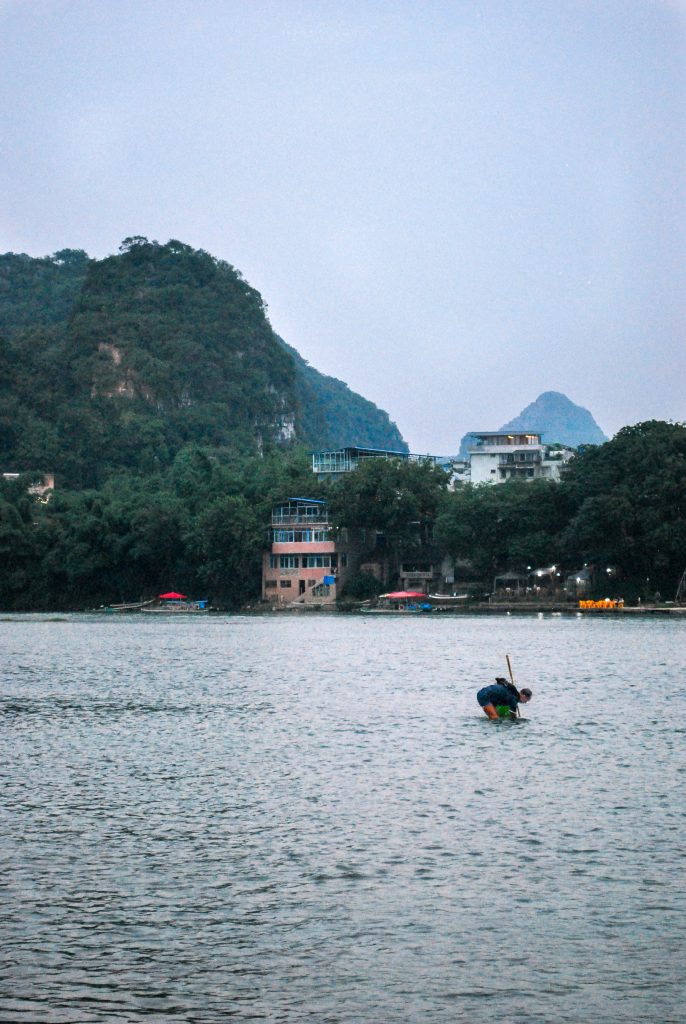 The first evening we arrived, there was a crazy light show in a pagoda and its neighboring karst peak. Light shows were a recurring theme in that city.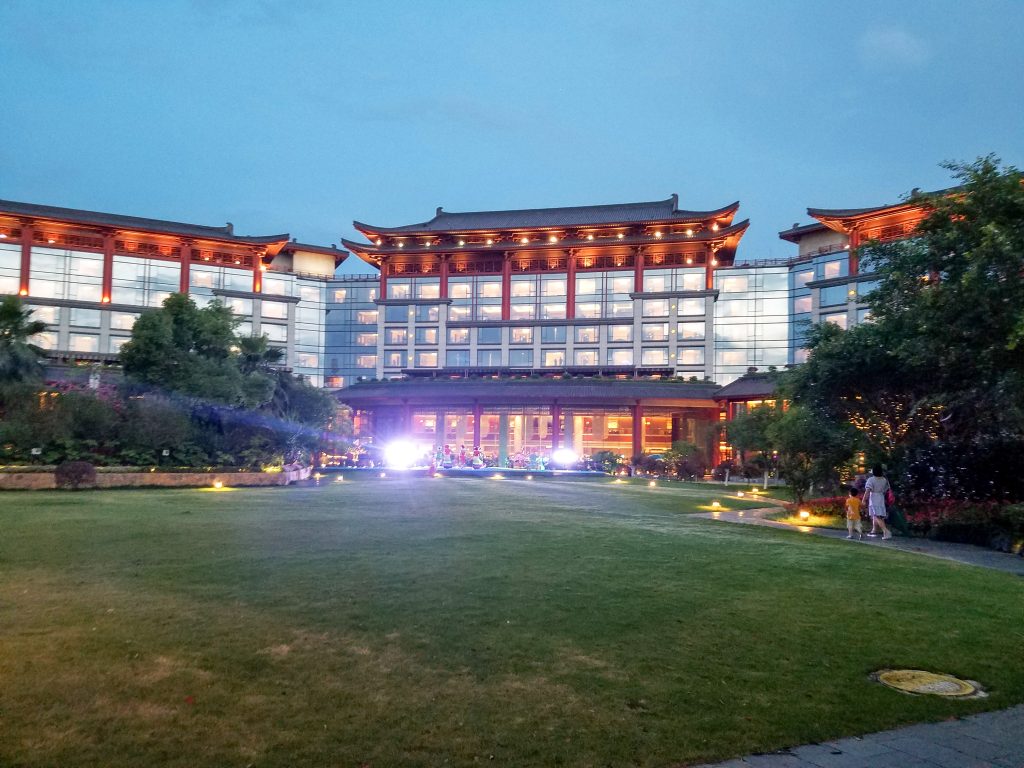 I really can't say enough about the Guìlín Shangri-La. It was a lovely experience. They had cultural performances in the evening on the grounds outside and in the lobby, excellent food, attentive staff and fabulous contractors for day trips.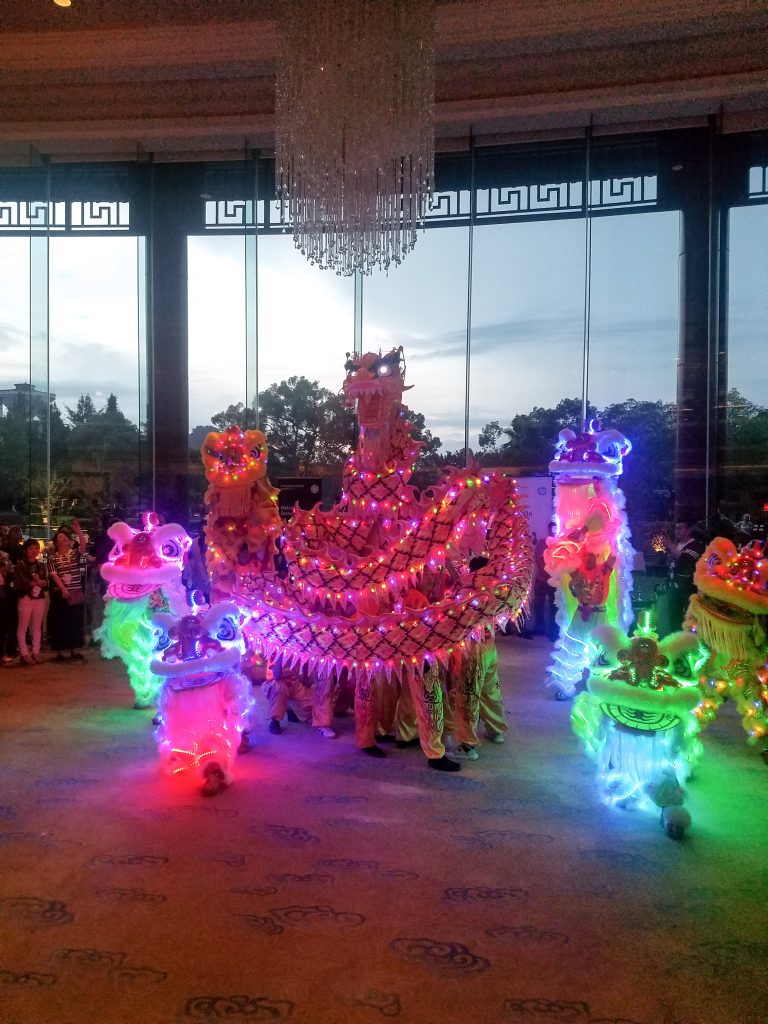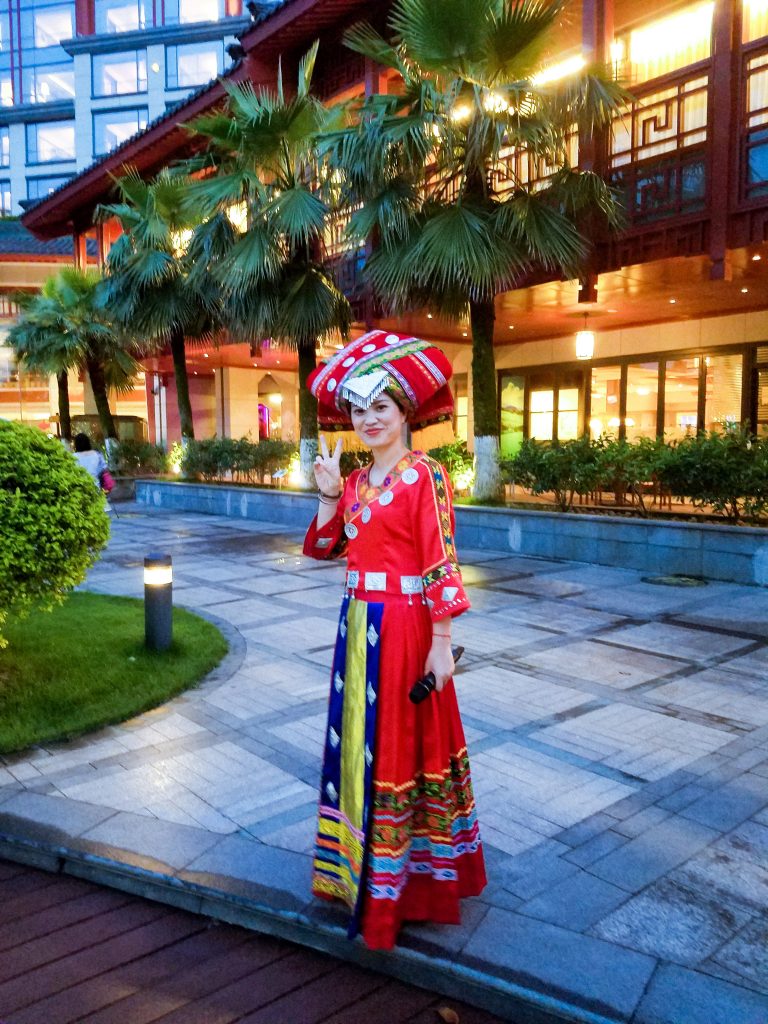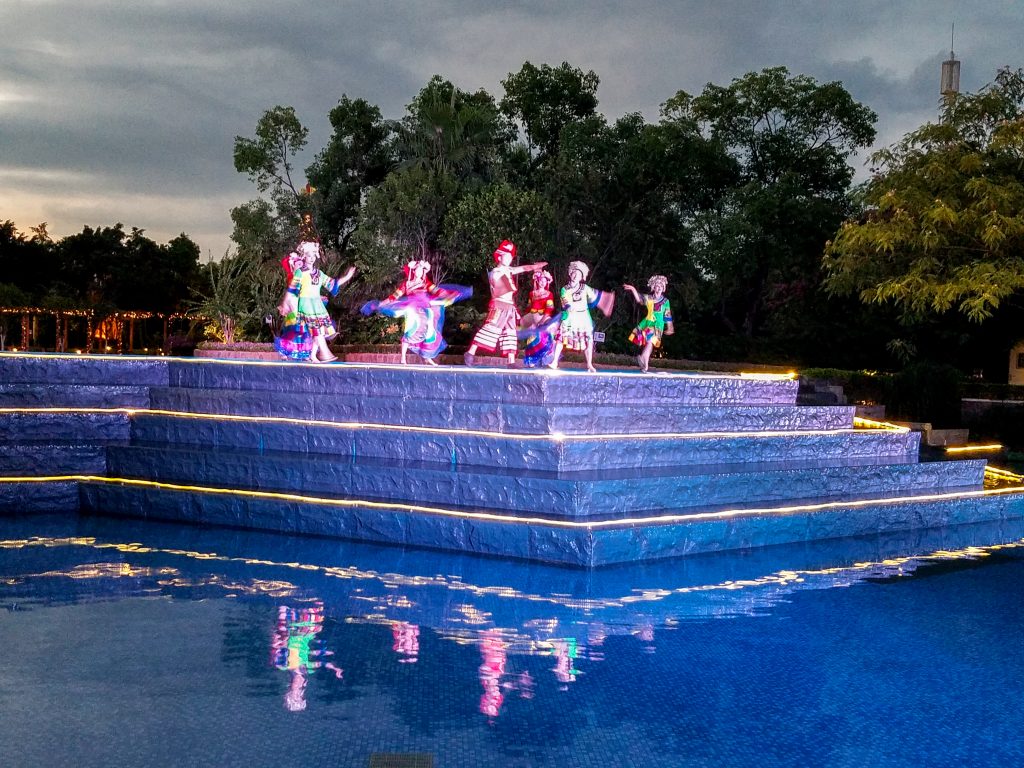 After this trip to China I have a completely different perspective on the country and I want to see more! This vast land has so much to offer and so much that is being overlooked, even by its own government. Like the karst landscape in Guìlín that is being threatened by the new casinos. The centuries old tradition of rice farming, with the lack of a new generation coming along to take over, these traditions and places are in danger of being lost to future generations.
Keep an eye out for photos of the wedding, Hong Kong and Macau!
And maybe next trip to China we can head towards Manchuria? Who knows where we will end up. Isn't that the beauty of travel?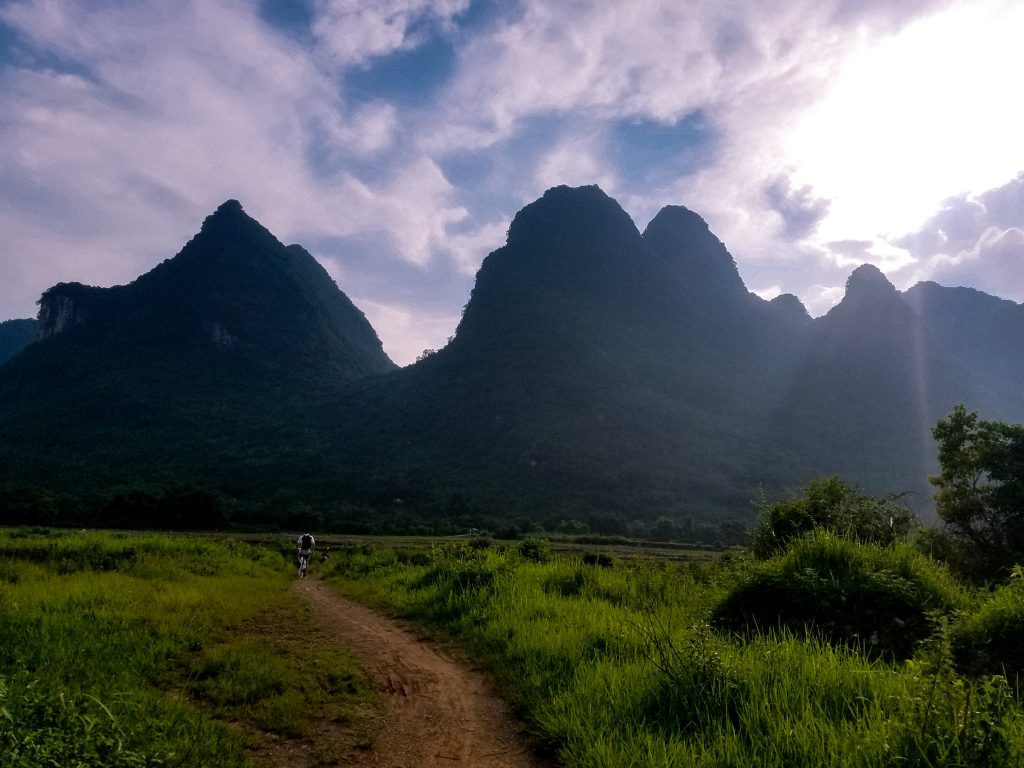 ---